This post may contain affiliate links. Read my disclosure policy here.
Twitter is impulsive, instant gratification FUN!
About thirty minutes ago, I tweeted about us publishing Olive Garden's actual recipe for their new Tuscan Garlic Chicken, (which I had at their restaurant — scrumptious!)
A couple seconds later, @christinalemmey tweeted back, "@5minutesformom Thanks for the recipe!! I was just wondering what to do with my defrosted chicken 🙂 Perfect timing! LOL"
Well, that tweet gave me the idea to have an impromptu Twitter contest!

I have one extra $25 gift card to Olive Garden, so I will give it away to a randomly selected Twitterer who posts a TwitPic or tweets about making Tuscan Garlic Chicken. (Okay – if you cheat and to go the restaurant and order it and take a Twit Pic that will count too.)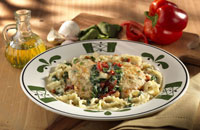 So now Twitter is all a twitter about making Tuscan Garlic Chicken. So go join in the fun. You can get the recipe at our page, www.5minutesformom/olive-garden. While you are there, make sure you leave a comment for a chance to win $100 gift card. 🙂
(And if you aren't on Twitter yet. GIRL! Get on Twitter. This is the perfect incentive. You will love Twitter — it is as delicious as Olive Garden's bread sticks!)
Hurry – I will choose the winner in three days! Get cooking and tweeting…
PS – Hashtag for this contest is #olivegardenprize. Make sure you include the hashtag so I don't miss you!