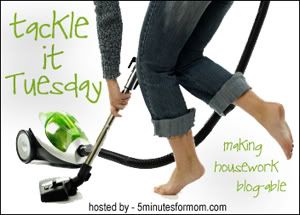 Today we are welcoming Brandy,the writer of the Learn to Love, Love to Learn blog who goes by L2L. She will be tackling some messy drawers and getting them all spiffy, organized, labeled.. the works!
Greetings!! L2L coming at ya from the sunny island of Okinawa. I am the proud wife of a fellow Jar-head, and 3 wonderful squad members!!! When I'm not on duty as a mom or wife, I enjoy sewing, card making, learning the wonderful world of HTML, and blogging our crazy life as it happens. I never turn down a cup of coffee and am reading through the Bible this year using the Message Translation. I have a heart for prayer, military children and spouses, and enjoying each day that God blesses me with. I have an open door policy, so stop by for a visit any time!!!
Happy Tackle It Tuesday everyone. I'm soooo excited to finally tackle my kitchen drawers!!!! My type A personality that I was born with often goes into hiding with three wonderful blessings running around the house. But today, it won't be ignored!! And so was born the desire to do something about my kitchen drawers:
It may not look to messy to you, but when you have 10 drawers like this, you can never find anything!!! So my first step was to clear off some space to work with:
Step 1) take everything out of the drawers:
Step 2) decide you don't really want to have to wipe out the drawers so you cut some fabric to line the drawers instead:
Step 3) take a coffee break because cutting the fabric took more time than cleaning out the drawers and you need some energy to get through the rest of this tackle:
Step 4) put the liners in the drawers
Step 5) organize and label drawers
Step 6) close those drawers and sigh with relief cause it's all over!!!!
Well I know I sure do feel better. There is just something about having an organized kitchen that seems to make everything else run smoother in our home and I am sooo excited to finally get that one off my Running To Do List. I always get so inspired by all the tackling that goes on around here and can't wait to see what you are up to this week!!!!
The organizing mommy says: I'm impressed! What organization! What class! I'm also starting a weekly meme called "Blitz-it Friday". It's going to be VERY easy to participate in! Come and see!
As resident tackler, Jena hosts Tackle It Tuesday each week, once a month posting her own personal tackles and the other weeks of the month posting your GUEST tackles.
So make sure you submit your guest tackles to be featured here at 5M4M. You can write Jena at tackleittuesday at gmail dot com. Remember, we are here to promote your site!
Each week on Tuesday, we are posting before and after pictures of a project or trouble area that we tackled this week.
If you tackled

a project

this week, just add a comment and add your link below.

Happy tackling ladies…