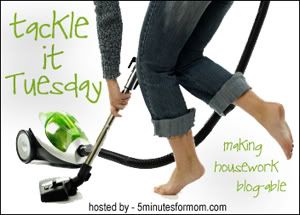 This week our resident tackler, Jena Webber, is posting about another way to keep your activities more organized.
Jena, also known as the organizing mommy, blogs at Organized Everyday.
Any time I add a new activity to our already busy schedule, I'm somewhat afraid that I will totally forget a) what it is I said I would do? and b) what do I need to get there?
So, this week I'm tackling bagging up my life. It's kind of like containerizing your life for the outside world. That's right. Rather than recycling the same bag over and over, I am assigning a bag for each activity and not switching them around. Inside each bag, I put a list of what goes back in the bag each time. I also have a notebook in each bag to take notes about what I said I would do or who needs what for the next time I go. Here is an example of one of my bags.
On Tuesdays, I am an English teacher. (for homeschoolers) We only meet once a week, so I can easily forget what is going on.
So, here is my Tuesday bag.
Inside my Tuesday bag, I have the papers to be corrected as well as the papers to be returned to the students.
I also have plenty of spots for my teacher's records and manuals. I also have to assign a calculator to the front pocket so I can average the grades.
Hey! That was fun!
What else can you bag up? I know I will still probably need a: Sunday/ Wednesday going to church bag, Gym bag, going to nursery bag, grocery store bag (filled with coupons, reusable bags, list) and as well as my regular purse. Now… to find a place to store all those organized bags…..
Would you like to post as a guest tackler? We are officially running low on guest tacklers!! Did I lose someone in the email shuffle? Send me another email if I have forgotten you.
As resident tackler, Jena hosts Tackle It Tuesday each week, once a month posting her own personal tackles and the other weeks of the month posting your GUEST tackles.
So make sure you submit your guest tackles to be featured here at 5M4M. You can write Jena at tackleittuesday at gmail dot com. Remember, we are here to promote your site!
Each week on Tuesday, we are posting before and after pictures of a project or trouble area that we tackled this week.

Find out more about Tackle It Tuesday here.
The project can be little or big – whatever you want.

Basically, Tackle It Tuesday is about giving ourselves incentive, deadlines and satisfaction in getting our household tasks done.

(It doesn't even have to be housework… just whatever is on your To Do list.)


If you tackled

a project

this week, just add a comment and add your link below.

Happy tackling ladies…