This post may contain affiliate links. Read my disclosure policy here.
Our first Ultimate Blog Party 2009 "In Real Life" Party with an exclusive Chris Mann performance is starting in just a few hours — 6 pm Pacific (9 pm Eastern).
Chris Mann will be in LA at one of three upcoming 5 Minutes for Mom Ultimate Blog Party 2009 "In Real Life" parties.
Thanks to Barbara Jones from One2One Network we are throwing this exclusive Chris Mann party and performance that are LIVE STREAMING through our new UStream channel:
http://www.ustream.tv/channel/5-minutes-for-mom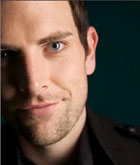 UBP "In Real Life" Party – Los Angeles
Featuring a performance by Chris Mann at 6 pm PST/ 9 pm EST
The gracious hostess of the actual "In Real Life" party will be Heather from The Spohrs Are Multiplying.
(Yes, she's the lucky lady who gets to have Chris Mann in her OWN living room.)
Heather's great friend VDog from VDog and Little Man will be helping out with the live streaming.
We are so excited to have these cool chicks throwing this blogging bash, we can't thank them enough. So please stop by their blogs and thank them tons.
These ladies are setting up the live stream through our 5 Minutes for Mom UStream channel so you can live chat with Chris and the all the cool bloggers at the party!
Heather will interview Chris and the bloggers! Don't miss it.
Ask questions or just chat with Chris Mann and the women who are attending the "In Real Life" party.
Remember, you can get a taste of Chris' music at his site http://chrismannmusic.com and follow him on Twitter at @IAmChrisMann.
We'll keep you updated with more details so make sure you've subscribed to our RSS Feed and make sure you're following on Twitter:
@5minutesformom, @susancarraretto, @janicecroze
@BarbaraJones, @IAmChrisMann
And in case you missed our interview with Chris Mann at the Mom 2.0 Summit, here it is again:
Party with you soon at the 5 Minutes for Mom UStream channel:
http://www.ustream.tv/channel/5-minutes-for-mom