This post may contain affiliate links. Read my disclosure policy here.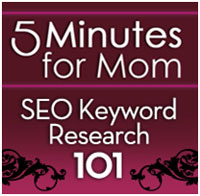 #SEOchat was such a success — we did it again!
Last night, we had another fantastic Search Engine Optimization (or SEO) call with Seth Jenks.
This time the focus was keyword research.
[display_podcast]
We covered:
Why keywords are important
How search engines use keywords to serve up results
Finding keywords that are relevant
Basic Keyword research
Onpage Keyword implementation
Tracking your results in the SERP's
This was our second free SEO training conference call with Seth. You can listen to the first SEO 101 conference call here and you can read the Twitter chat conversation by searching #SEOchat.
(Btw, both podcasts are totally open to anyone to take and embed on their own site. They are FREE. Learn and enjoy.)
Thank you Seth for sharing your knowledge about keyword research and search engine optimization.
If you have more questions about SEO and you'd like Seth to join us on future calls, please let us know in the comments.