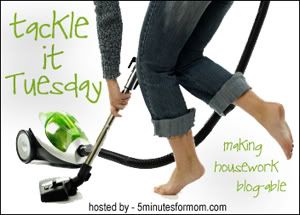 Hi! I'm Deb, and I blog over at Mom of 3 Girls. I love Tackle It Tuesday, because it always makes me actually get to those projects or jobs that I would tend to put off.  There's just such a good feeling when you finally tackle something – whether a big project, or just those little tasks that never seem 'big enough' to get to otherwise.  🙂
One of those 'little' tasks is one that I finally got to recently. Last year, I put together a snack drawer in our kitchen, where we usually keep individual-sized portions of snacks that our girls can just grab whenever they need to – for school, on-the-go, or whenever.
To save money, I try to buy full-sized packages of crackers, raisins or nuts and then portion them out either into re-usable snack containers or snack-sized baggies. I try to keep a good variety both of snacks and packaging options to meet whatever circumstances we're needing snacks for.
Lately though, I'd gotten lazy about keeping up with the snack drawer; and as a result, our boxes of snacks were either put up on shelves where the girls couldn't reach them, or crammed into the snack drawer where they were making a mess and going stale before they could be eaten. 
What a waste…
So after a large grocery shopping trip, I finally decided that it was time to tackle the snack drawer and put it back together the way it was supposed to be.
Here's how empty the drawer was once I cleared out the old boxes, crumbs and assorted junk. Not much left, and several empty snack containers just waiting to be filled…

And these are the 'reinforcements' all ready to be portioned out to refill the drawer, along with a few others I splurged on that were already individual sizes.

So after filling the re-usable containers and putting what was left in the baggies, we finally have plenty of snacks all set to go – that the girls can simply grab themselves, and that won't get stale before they can be eaten.
This is definitely one tackle that I won't let slide like that again!  🙂
The organizing mommy says: I'm impressed! What organization! What class! What yummy food! I'm celebrating her new blog design this week. For my tackle, I show you how I came up with a new design and hired a designer. Come and see it; it's so cool. I'm also starting a weekly meme called "Blitz-it Friday". It's going to be VERY easy to participate in! Come and see!
As resident tackler, Jena hosts Tackle It Tuesday each week, once a month posting her own personal tackles and the other weeks of the month posting your GUEST tackles.
So make sure you submit your guest tackles to be featured here at 5M4M. You can write Jena at tackleittuesday at gmail dot com. Remember, we are here to promote your site!
Each week on Tuesday, we are posting before and after pictures of a project or trouble area that we tackled this week.
If you tackled

a project

this week, just add a comment and add your link below.

Happy tackling ladies…