This post may contain affiliate links. Read my disclosure policy here.
"That's our house – it's a messy place."
So the tackling is working – except in some parts of my house! For example, in the early summer I started to tackle my storage room in our basement and pulled everything out. Then I stalled. So now, to get to our basement playroom we have to step around stacks of boxes.
The other day, Susan and Jackson were downstairs looking for something and Susan complained to Jackson, "I can't find anything it is too messy down here."
Jackson sighed and replied, "That's our house – it's a messy place."
They speak the truth those innocent little babes. And yes – my house (especially the basement and the garage) is a messy place. Although I have moments of tidy and organized, things can quickly fall apart.
But every two weeks I have a housekeeper come and do the heavy cleaning for three hours. So the night before she arrives, I run around in a dead panic tidying my house. (Not the basement mind you – I have her steer clear of there. She is liable to break her neck getting down there and I don't need a lawsuit!)
So this week I thought I would show you my high traffic area tackle that happens every two weeks (or if someone is coming over.)
Dining Room: Before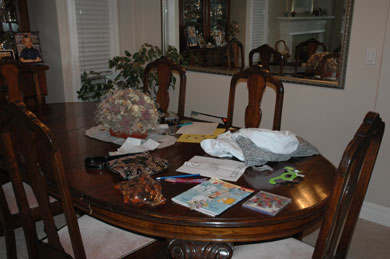 Dining Room: After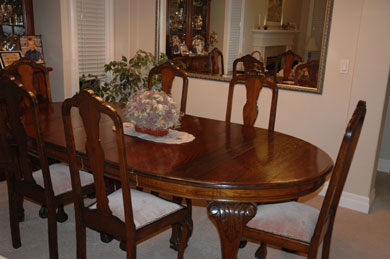 Front Hall: Before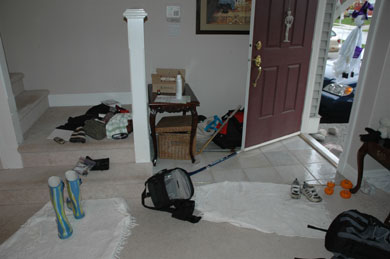 Front Hall: After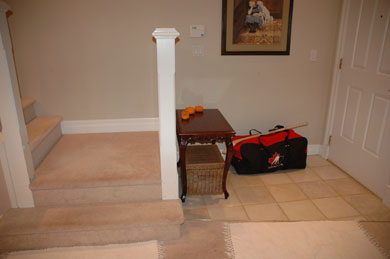 You will notice Jackson's hockey bag still behind the front door. I tried to move it, but gave up. Our garage is as bad as the basement, and I don't want to try and find a place for that right now. We use it too often. So until I can tackle the garage and find a home for Jackson's new hockey stuff, I think I will let it stay there. When people come over or for "trick or treating" I will move it. In fact I moved it for the picture and then felt too dishonest and moved it back. Blogging is real life and that is where it will be!
But guess what – I didn't stop there! I also tackled the stuff from my van.
Jackson and Julia's toy box that I had kept in the van had a bunch of broken glass in it from the van getting broken into. So I emptied it, cleaned the toys and washed out the box.
As well I organized all the other stuff that I took out of my van. When I cleaned out the van to get fixed, I threw it all in the container that I had in the front seat. I am actually not returning that box to the van now. I have gotten much more nervous about leaving things visible in my van!
So I put the CD's in two carrying cases and will keep them under the seat. Wipes, diapers, and extra clothes are going in the toy box which I am now keeping in the back. Extra sunglasses, hand lotion and other misc. items will be properly stowed away.
Van Stuff: Before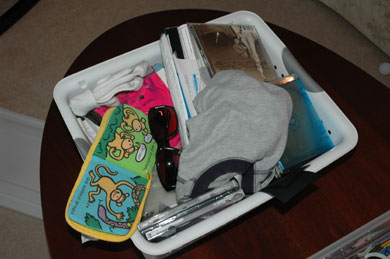 Toy Box: Before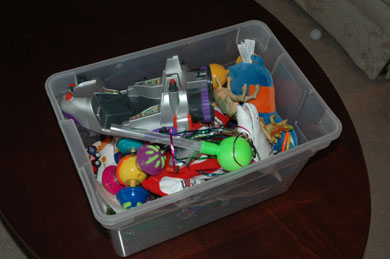 Toy Box: After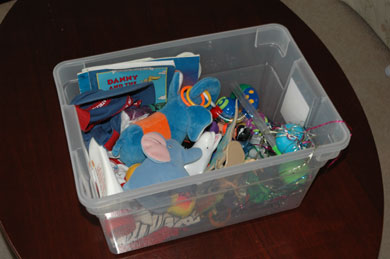 So there you have it. High traffic areas had a pick me up, but the hidden disasters in the garage and the basement are still patiently waiting for me to tackle. (I think those will have to be tackle series!)
What did you do this week? Or what are you planning on doing today? Link up and let us know!
Please Note: I do my blog visiting from my comment section, not the Mr. Linky. (I do this because some people who comment are not participating and I do not want to miss visiting them.) If you want me to visit your tackle, please leave a quick comment as well as signing the Mr. Linky. Thanks!
Join Us For Tackle It Tuesday

We're making housework blog-able!

Each week on Tuesday, we are posting before and after pictures of a project or trouble area that we tackled this week.

Find out more about Tackle It Tuesday here.

The project can be little or big – whatever you want. Basically, Tackle It Tuesday is about giving ourselves incentive, deadlines and satisfaction in getting our household tasks done.