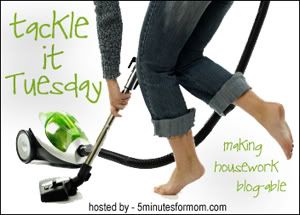 This week we are welcoming back guest tackler Amy Nabors of Ordinarily Extraordinary.
Hello! My name is Amy.
I live in a small southern town with my husband of 12 years and our wonderful son. When I'm not taking care of our family, I'm working on my part time photography business, scrapbooking, cardmaking, sewing or taking photos of our days and blogging about it all on my blog, Ordinarily Extraordinary
I try to find those ordinary moments each day that make life so extraordinary. I'm so excited to be guest tackling here at 5 Minutes for Mom.
If you're like my family, you probably subscribe to magazines and get way too many catalogs as well. Ours always land in our magazine holder in our den and pile up all too quickly. The stack had gotten a bit out of control, so I decided it was time to Tackle-it.
At this point, I only subscribe to one magazine. But up until a few months ago, I subscribed to four: (a photographer's magazine, two scrapbooking magazines and Real Simple).
I've let the subscriptions to the photographer's magazine and Real Simple lapse, and one of the two scrapbooking magazines is closing its doors.
It's easy to sit down and purge through a stack of catalogs and magazines, but I didn't want to just throw them away, especially the magazines.
Sometime the catalogs I get in the mail go directly in the trash and I know this isn't very "green" of me, so I've found some ways to recycle them, as well as a way to get off the mailing lists.
I've kept the scrapbooking magazines and have decided to keep the Real Simple ones for right now. The scrapbooking ones already have an organized place where they go. As I was purging, I found another place for the Real Simple ones until I can go through them and pull out the recipes I want. For the others I've found ways to recycle them.
A great way to pass the magazines along is to call the offices of your local doctors, dentists, chiropractors, hair stylist, etc. I found that they like getting new (at least new to them) magazines for their waiting areas. It only takes a few minutes to drop the magazines off, and they aren't being dumped in a landfill. Also ask around. I found a place here, even in my little city, that recycles old catalogs and magazines.
There is only one catalog I like to receive: Pottery Barn. I very rarely order from them, but I like looking through its pages to get ideas for decorating, sewing and papercrafting from all the colors and patterns. I tear out the pictures I like and tape them into my idea journal.


What about the others I find in my mailbox each week?
Well, like I said before, they usually go directly to the trash, but I recently found out how you can be removed from their mailing lists. This is probably old news to some people, but it's new to me so I thought I'd share.
One way is to simply call the 1-800 number on the catalog and asked to be removed. I did this with one catalog and had no problems at all. The second way is a site called Catalog Choice. You do have to register on this site, but once I activated my account from an e-mail they sent me it was super easy. I browsed for each catalog I wanted to stop receiving and selected the appropriate box.
Thanks to Amy Nabors for this inspiring guest tackle!

Would you like to post as a guest tackler? We are officially running low on guest tacklers!! Did I lose someone in the email shuffle? Send me another email if I have forgotten you. The organizing mommy is tackling: putting the laundry away this week.
As resident tackler, Jena hosts Tackle It Tuesday each week, once a month posting her own personal tackles and the other weeks of the month posting your GUEST tackles.
So make sure you submit your guest tackles to be featured here at 5M4M. You can write Jena at tackleittuesday at gmail dot com. Remember, we are here to promote your site!
Each week on Tuesday, we are posting before and after pictures of a project or trouble area that we tackled this week.
If you tackled

a project

this week, just add a comment and add your link below.

Happy tackling ladies…