This post may contain affiliate links. Read my disclosure policy here.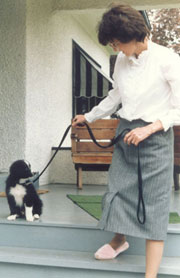 When I was growing up, my mom was a busy woman. (She still is in fact!) With four kids, a husband that traveled frequently and a full time job working at my father's office, I never saw her sit down to relax except for a rare cup of tea.
She was a flurry of productivity. She whipped a room into order so fast I stood stunned watching my toys and clothes find homes I never knew they had. She cooked every meal, canned fruit and made all the jam our large household consumed. She helped us with our homework, sat next to us on the piano bench demonstrating what the song was supposed to sound like, and drove us to every doctor's appointment we had. She even taught our dog to heel. This woman was busy.
But a couple times a year, when the season and children insisted, our house transformed. I remember coming home from school, and mom would be there with boxes out and decorations going up. She still moved at an effective speed, but there was a calmness about it that settled me and made the moments rich.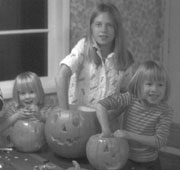 I remember carving pumpkins and hanging Kleenex ghosts around my room and a bright orange cardboard cat on our wall.
Okay, our Halloween decorations could not compete with the Christmas decorations she would soon drag out of the basement. But they made me shiver with expectation just the same.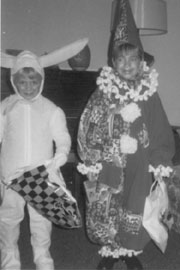 The handmade costumes, that my mom had made for our older brother and sister before we were born, were eventually passed down to Susan and me. We each had a chance to be the floppy-eared bunny, the pointy-hat witch and the ruffled-collared clown. They were such intricately sewn costumes – I must remember to ask mom if she kept them.
So this year when my son begged to decorate for Halloween, I conceded. In his short life, I have skipped the Halloween decorations, trying hard to minimize the event and going for harvest decorations instead. But as he pleaded for ghosts and spider webs, I began to remember the ghosts and spider webs from my childhood.
My parents were Christians, but still allowed us to participate in Halloween activities. And as a child I didn't know anything about the evil part of it. I just loved the imagination of it all – makeup, costumes, and decorations – not to mention the grand finale of sorting our candy and gathering together in the backyard for fireworks.
So, I decided, it was Jackson's turn.
Jackson was jumping with excitement as we headed to the dollar store to load up on decorations. (I don't think I have ever seen a child so thrilled to own plastic spiders and gauzy webs. What had I done depriving him this long!?!)
When we got home, my husband was in a hurry to get to his hockey game and I found myself with bags of décor and my squirmy seventeen-month-old niece Julia who was not going to be easy to manage while I dangled from a ladder.
"Just do it tomorrow," my husband insisted, but I would not disappoint my son. I remembered having my mom putter about, her to-do list forgotten for the afternoon, as she focused on decorating. I was determined to do the same for my son. "No – it is ok. I can manage it," I was not wavering. "But what should I do with Julia? And how do these spider webs work anyway?" I wondered to myself.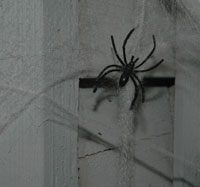 I grabbed the phone and called my mom – perhaps the magic still works! I pleaded, as only a child can, and persuaded her to leave her office at Susan's house and run over to our house and help me with Julia. I also spotted my favorite neighbor (a grade school teacher – I bet she has a lot of experience with fake spider webs!) and asked if she wanted to come over and help.
The afternoon gently turned into evening as we laughed and visited, our frozen fingers transforming our front porch and yard into Jackson's first Halloween house. It was just as it should be, relaxed and fun, with Jackson thrilled to be in the middle of it all. And the spider webs looked alright if I do say so myself.
That night as I tucked Jackson into bed I remarked about what a busy, wonderful day it had been. He broke into a huge grin, complete with twinkling eyes, and said, "You know what my favorite part was? I'll give you a hint – it starts with a 'D' – decorating!!!"