This post may contain affiliate links. Read my disclosure policy here.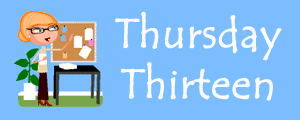 Banner by Chaotic Home
As we're all getting started thinking about our Christmas shopping, here's some fantastic ideas for gifts that are handcrafted by moms like you.
(By the way, these are NOT affiliate links… we're just giving a little link love to some hardworking moms.)
13 Handmade Gifts Ideas

Get the Thursday Thirteen code here!
The purpose of the meme is to get to know everyone who participates a little bit better every Thursday. Visiting fellow Thirteeners is encouraged! If you participate, leave the link to your Thirteen in others comments. It's easy, and fun! Be sure to update your Thirteen with links that are left for you, as well! I will link to everyone who participates and leaves a link to their 13 things. Trackbacks, pings, comment links accepted!
View More Thursday Thirteen Participants