This post may contain affiliate links. Read my disclosure policy here.
Twitter is hopping with people hating on Jason Mesnick, The Bachelor 2009.
I have a bowl of popcorn, a glass of Kahlua and I am trying to not get butter on my keyboard as I keep one eye on twitter and one eye on "life" unraveling on "reality" TV.
And I am not even a fan of The Bachelor!

But tonight, I got hooked with the madness of beautiful women rejected… and one man who couldn't make up his mind.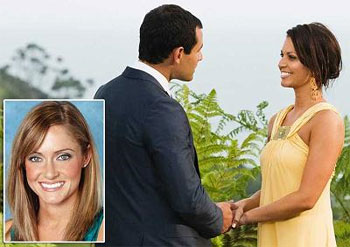 And while The Bachelor watching masses rage about spoiled boy Jason who wants to have his cake and eat it too, and rally first behind Molly and then jump to pick up tossed aside Melissa, I am not shocked, or even surprised.
I mean come on!
Have someone date a bunch of people at once, in completely unreal circumstances, and then expect it to turn out in a healthy, tidy conclusion?
Even for people in the real world, choosing "the one" isn't always easy. Sometimes people make mistakes or have second thoughts. Sometimes memories haunt and doubts overwhelm. Being "in love" is a feeling that guarantees nothing.
I just can't believe this season finale of the Bachelor is the first time The Bachelor has freaked out and tried to take back his answer!
We aren't meant to find life-long-love in a smorgasbord, tasting each tempting option before finally making our selection.
After such an unhealthy beginning, how can anyone ever recover from the betrayals enough to have a solid marriage?
No, the most shocking thing that has ever come out of The Bachelor enterprise is that Trista and Ryan have seemed to actually come out of the experience as "winners."
So, while watching The Bachelor — After the Final Rose, I am not shocked that Jason Mesnick changed his mind.
I am just very unimpressed that he agreed to finish off the season by publicly dumping Melissa. Now, that was just unnecessary and completely uncool! Did they get a bonus for the extra "episode?" I think Melissa should get the biggest bonus!
But, I actually hope that Jason, Molly and innocent son Ty have a good future together. (And if they do, then I will write a post about being shocked!)
Because just as I hope that Melissa recovers from the experience, I hope each member of the Bachelor cast recovers from this cruel social experiment and moves forward to have healthy, real lives.

What about you? Did you watch The Bachelor? Are you furious with Jason?