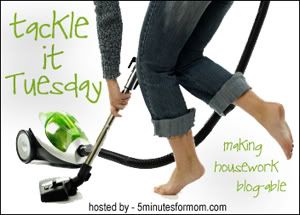 This week our resident tackler, Jena Webber, is posting about a yummy, healthy thing to eat that will give your immune system a zing!
Jena, also known as the organizing mommy, blogs at Organized Everyday.
Tackling an Immune System Boost
A lot of the health-food kicks I've been on have involved : 1) equipment and 2) work to put together.
But not this! It goes together fast and easy. You just need a basic blender and a little creativity.
But there is one problem…
It looks weird.
It does not taste weird, I promise. It actually tastes like: an orange julius!
So, like.. what is in it???
Oh, I thought you'd never ask!
Put these in your blender:
1 cup of frozen fruit (try mango: it's the bomb!)
1/4 cup of vanilla protein powder
3/4 cup of plain yogurt
a hefty dose of orange juice concentrate
some juice or water or milk
3-4 cups of packed small leaf spinach (yeah, that's right!)
1-2 T of ground flax seed (optional)
Buzz that thing around so it all gets pulverized. Add more juice if you like.
So, how does it taste?
Pretty good actually!
Don't be like the mopey guy in Green Eggs and Ham who got chased down, dragged out and knocked out before he would even TRY green eggs and ham.
You may like it, you will see… You may like it in a tree…

You say you do not like it,
so you say,
try it, and you may
try it and you may I say…
Aww! Come on, just muck it on down.
Now that you have given your immune system such a POW, you'll want to do your super-efficient blitz around the house. You may want to go for a power walk or get organized or something.
This week I totally got organized with my recipes. Wooo wee! I feel like cooking too!
What have you been up to?
Would you like to post as a guest tackler? I do not mind doing this every week, but I have officially run out of guest tacklers!! Did I lose someone in the email shuffle? Send me another email if I have forgotten you.
As resident tackler, Jena will host Tackle It Tuesday each week, once a month posting her own personal tackles and the other weeks of the month posting your GUEST tackles.
So make sure you submit your guest tackles to be featured here at 5M4M. You can write Jena at tackleittuesday at gmail dot com. Remember, we are here to promote your site!
Each week on Tuesday, we are posting before and after pictures of a project or trouble area that we tackled this week.
If you tackled

a project

this week, just add a comment and add your link below.

Happy tackling ladies…
Written by 5 Minutes for Mom Featured Columnist: Jena
Have you subscribed to our 5 Minutes for Mom RSS Feed and our
Giveaways RSS Feed?
Are you on Twitter? Follow us and let's tweet.