This post may contain affiliate links. Read my disclosure policy here.
Rebecca from Mom's Mustard Seeds has a fabulous parenting lesson for us all to help us teach our children to stop complaining.
So often, it is easy to fall into the complaining game.
Life never seems fair and the grass may always seem 'greener' on the other side. It's easy to start complaining and thinking we don't have things as well as others or think that other people are not doing what they are supposed to be doing. BUT, it is not a path we need to go down, nor is it a path we should encourage our children to follow.
What can you do, as a parent to help alleviate the…..complaining cycle.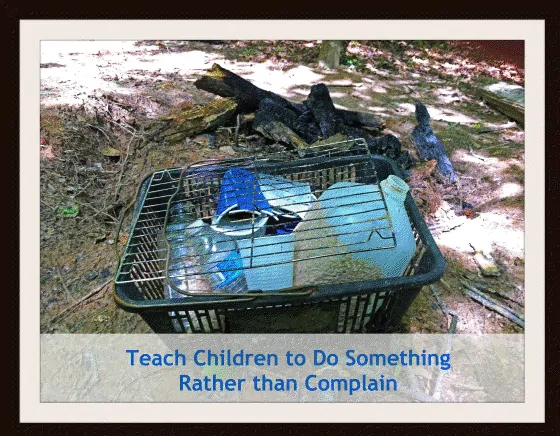 Fight it…with every ounce that you have.
First, don't complain about a problem
Identify an issue.
Don't leave it open-ended
Identify a solution
Do not leave the implementation of the solution up to another person or group
Join in…and take part in that solution.
Here is an example:
A few days ago, I was on a nature walk with our children.  We came upon an area that had been used as a 'camping ground'.  It was obvious someone had been there.  The ground had remnants of a camp fire….and trash littered the ground. I made note of it…and admittedly,the first thing I wanted to do was complain about someone else not picking up their trash. But, I did not.  I held my tongue, and waited. After a few minutes, one of my children noted the trash and how sad it was.

That opened the door….
"What can we do about it?" I asked
"Maybe we should call around and find out who did it"….  "Maybe we should post a picture"….
"Do you think…if they left it here, they would admit to it?  Do you think they would feel 'loved' by us calling and asking or posting a picture?"  I asked
"NO" was the response I received.
So, I asked again:  "What can we do about it?"
"I have an idea, let's set a good example and pick it up!" (be.still.my.mommy.heart) that was the answer I was looking for!
And so we did.

We picked up the trash and discussed how we can set a good example, not complain and not worry about whether or not anyone ever notices we made the right choice!
How are you teaching your children to do something, rather than sitting back and complaining about problems?
Rebecca is a child of God, married to the love of her life, and the mother of three children. She writes about faith, life, nutrition and homeschooling at Mom's Mustard Seeds.