This post may contain affiliate links. Read my disclosure policy here.
I first remember seeing Courtney Throne-Smith in the 1987 comedy Summer School. You may remember her from her days as Allison Parker in Melrose Place or Georgia Thomas in Ally McBeal.
Today she plays Jim Belushi's wife, Cheryl, in the hilarious comedy According to Jim. But that is just one of Courtney Thorne-Smith's jobs!
Recently she became a new mom to son Jacob and (yes, there's more) she has teamed up with Atkins as their new spokesperson for their Sweet Sexy Science campaign!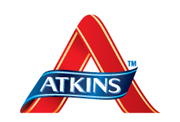 When most people think about dieting they cringe. I do. I hate dieting. I hate knowing that I can't eat this or that. It only makes me want those foods even more. I also feel like most diets are temporary and, after a few weeks, I'm right back where I started and even more frustrated. Atkins knows this so they have created an approach that isn't about dieting but about helping you create a long-term weight loss plan.
Atkins wants to help you see foods differently. Their program uses SCIENCE to teach you which foods are the right foods for your body, the foods your body was meant to consume! By eating the right foods you'll lose weight, you'll maintain your optimal weight, and you'll feel better. You'll become the SEXY you!
Oh wait, what about the SWEET? Well, Atkins also introduced some new, and very yummy, products to their already delicious line of breakfast bars and snack bars. My favorites are the Marshmallow Mudslide Bar, the Mocha Crisp Coffee Bar, and the Chocolate Peanut Butter Cups. They are an amazing way to fulfill those chocolate and sweet cravings I often have in the late afternoon!
We recently chatted with Courtney Thorne-Smith about her partnership with Atkins and on becoming a new mom.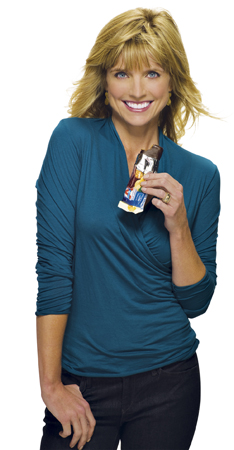 You recently joined up with the well-known Atkins program.  What is it that drew you in to their specific program?

I recently joined Atkins as a spokesperson, but I have lived the controlled carbohydrate lifestyle for many years now. After years of compulsive exercise and fighting hunger on a variety of low-fat diet plans, I was ready to try something new.

How has the Atkins program helped you balance exercise and eating healthy with being a new mom and a busy actor?

Atkins is perfect for me as a new mom. In fact, my favorite benefit of eating this way (besides my weight remaining consistently healthy) is the incredible amount of energy I have. I need less sleep, and I find that I no longer have an energy dip in the late afternoon. Also, I feel calm and centered because my moods are not being impacted by rising and falling blood sugar every day. I love that my son has a calm, energetic mom!

What is the hardest part for you being on the Atkins program?

The most difficult thing for me to stay away from is sugar. Oddly, the bread is not an issue for me- it's the gummy bears!  To be honest, when I go off track, it is always with sugar. Almost immediately, my energy tanks (after the initial spike, of course), and I notice that I need more sleep at night and I feel more sluggish during the day. If I don't pay close attention, that leads to reaching for more sugar, setting up a vicious cycle. When I get back on the program, I have to suffer through a couple of days of not feeling great (sugar detox), but my good energy is always waiting there for me!

How do you hold true to the Atkins program when you are at big celebrity events or on the set of 'According to Jim'?

I find it very easy to stick with the plan while working. There is always a tray of sliced meats and veggies. On the rare occasion that I find myself somewhere only sandwiches are being served (very rare in carb-conscious Los Angeles), I just eat the "stuffing," which is the best part anyway.

What advice would you give to moms out there, like myself, looking to lose some of that post-pregnancy weight or who just want to get back into shape?

Well, because it worked so well for me, I would recommend Atkins. But be sure to read the whole book! The first time I tried it, I thought the whole plan was the Induction portion (the first two weeks), which is way to restrictive to do long-term. The maintenance program, however, includes a wide variety of foods and I find it very flexible.

Does your husband eat according to the Atkins program as well or do you both have separate menus?

No, my husband does not follow the Atkins program. He is great at eating everything in moderation.

Does that make it more difficult for you to stick with the program?

It doesn't make it difficult for me. I usually cook protein, sautéed veggies and salad for dinner and if he wants bread or a tortilla, he has it. Usually, though, he skips carbs at dinner because he says he ends up feeling so much less full, which he finds helps him to sleep better.

Your character, Cheryl, on According to Jim is, what I would consider, a very patient, sometimes sneaky, but always-funny mom and wife.  How are you, as a real-life wife and mom, similar or different from the character you play on TV?

I'm very different from Cheryl, mostly because my life is quite different from hers. I have one child and a very involved husband. We do laugh a lot, but not because my husband is getting into wacky situations every week!
For more information about Atkins, their program, and to see their new products, visit www.atkins.com. If you have never tried Atkins before, take a look at their website. It talks through their Four Phases for Optimal Balance that Courtney spoke about and helps you find out if Atkins is right for you.
Now, go put Sweet Sexy Science to work for you!!