This post may contain affiliate links. Read my disclosure policy here.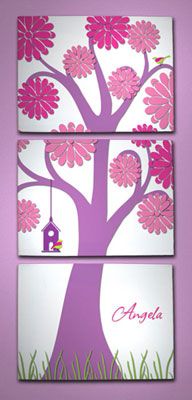 My Wonderful Walls offers imaginative and stunning do-it-yourself kids wall murals and personalized ready-to-hang wall art for baby nurseries and kids rooms.
Owned by a husband and wife team, My Wonderful Walls is much more than a store. With their hearts of gold, owners Stephanie and her husband take the time to spread love through giving of their murals for hospital rooms and deserving children who need a little extra ray of sunshine.
"We have and are continually developing relationships with organizations that work with either medically or physically challenged children. Including TC Thompsons Children's Hospital, several wish giving foundations and individual bloggers on the topic. We use these relationships to give our personalized murals to kids or to decorate children's hospital rooms. "

"How it works is if someone puts our banner and text link on their home page we give a canvas mural a month or bi monthly in their name. The idea is: growing through giving. It helps us grow as a business and brings a little cheer to children who need it. We will continually let people know where the murals are going and pass on letters of thanks from parents or hospitals."
My Wonderful Walls has teamed up with our sister site, 5 Minutes for Special Needs. By heading over there now, you can find out how you can quickly and easily add a little button to your site or blog and help a child receive a darling mural for their room.

Each month My Wonderful Walls.com will be giving away a one piece Nursery Mural OR Kid Mural of your choice. All we ask is that you in turn help to spread the love in your little corner of the world.
To find out how to win wall art for someone near and dear to your heart, head on over to 5 Minutes for Special Needs to get all the details.
Thank you to My Wonderful Walls for partnering with us. We are so blessed to be able to give back and spread some love. With a monthly donation from My Wonderful Walls, we will be able to spread some sunshine to many children over the coming year.