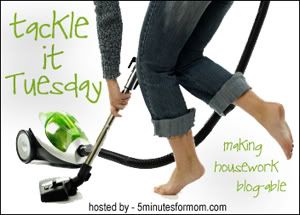 Hi! I'm Lolli from Life is Sweet, a 34-year-old mother of five, photographer, blogger, and keeper of the house. As you can imagine, my small townhouse often gets messy with so many people and their things. I keep up on the basics pretty well, but there always seems to be at least one area of the house that I avoid.
For me lately, I have been avoiding the little kids' room. We have a wonderful IKEA shelf for books and special treasures, but things are rarely put back in the same place. The mess from the shelf, of course, has carried over to the rest of the room, and ultimately led to a complete disaster.
Lately, when I have sent the kids up to clean their room, they would put things up, but not necessarily away. I kept putting off tackling this spot of the house. It seemed overwhelming. I suppose that I figured that the kids bedroom could handle a little bit of messiness. After all, it's hidden away upstairs and nobody sees it but us. Right?
You can imagine my horror when I realized that some of our adult guests at our Christmas Eve get-together had followed the kids upstairs and were in that messy room. If that's not motivation, I don't know what is.
I finally decided to sit down with my 9-year-old daughter and DO IT recently. We pulled everything off the shelf and sorted it all. We filled one bag with trash, one bag with giveaways, and organized everything else to put back on the shelf. But that wasn't enough! It felt so good to organize the shelf that we continued on with the rest of the room, moving furniture and beds to vacuum (and find more treasures!).
It felt wonderful to tackle something that I'd been avoiding and putting off for so long. So far, the organization is helping immensely (how much easier is it to keep a clean room clean?) Let's see how long this lasts now!
So what have you been avoiding lately? How much better would your house function (and how much better would you feel) if you tackled that spot this week?
Thanks, Lolli! After a big project like that, you need to have a party just to show it off. Tired of your winter wardrobe? I have a cool project on my blog about recycling sweaters! You can even go thrift-store shopping if you don't have any that you want to part with. Check out the organizing mommy's blog today.
If you tackled

a project

this week, just add a comment and add your link below.

Happy tackling ladies…
Written by 5 Minutes for Mom Featured Columnist: Jena
Have you subscribed to our 5 Minutes for Mom RSS Feed and our
Giveaways RSS Feed?
Are you on Twitter? Follow us and let's tweet.