This post may contain affiliate links. Read my disclosure policy here.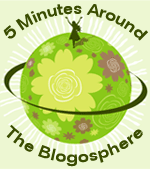 Welcome to our weekly roundup here at 5 Minutes Around the Blogosphere.
As you know, you can come back all week and add a post or giveaway to our Linky. Be sure to check back often, as new links will be added daily. You don't want to miss out on something fun.
What's been going on at 5 Minutes for Mom?
Giveaways at 5 Minutes for Mom
What's Going On Around the Blogosphere?
All the winners of our Mother's Day Giveaway 2012 have been announced. Check to see if you were a winner and be sure and visit our sponsors and thank them for the fabulous prizes that were provided!
Giveaway Winners Announced!
Giveaways galore! We've got more winners to announce for giveaways that ended this past week. Congratulations to all our winners! Emails have been sent…
The winners of the Stanley Steemer $500 Giveaway are Idaho Jill, Tam Sweeps, Dani Vice, Dara Nix, and Tricia Davis.
The winner of the Viny Disorder Decal Giveaway is Michelle Horstman.
The winner of the ToyDozer Review and Giveaway is Erin Guymon.
The winner of  The Dish Pinterest Giveaway is Sara Jerguns.
The winner of the Chalk City Giveaway is Amy Deeter.
The winner of the Looneyspoons Cookbook Giveaway is Laura.
The winner of the Breathslim Weightloss Giveaway is Ada.
The winner of the Avengers Prize pack is Matt Dzik.
Please note: all giveaway winners were selected using random.org.
Giveaways Around the Blogosphere
Would you like to share a fun giveaway? Please add it to the Linky below. You can come here any time this week to add in your link. Don't miss out on the fun. Be sure to visit throughout the week as the linky grows, and more sites are added.
Or if you prefer the traditional linky….
Written by 5 Minutes for Mom Advertising and Communications contact, Jennifer. You can find me blogging at Jen's Journey and tweeting at @jennifer_sikora.