This post may contain affiliate links. Read my disclosure policy here.
Lolli here… Last Friday, after a busier-than-usual few days of trying to recover from a long trip to Disney World, I had to turn my attention to getting my house ready for weekend guests. The scene on Friday was less than ideal:
the kids had trashed the house while I was gone
my suitcase was still packed in my room
I didn't have any plans for meals while they were here
I was in the middle of massive amounts of laundry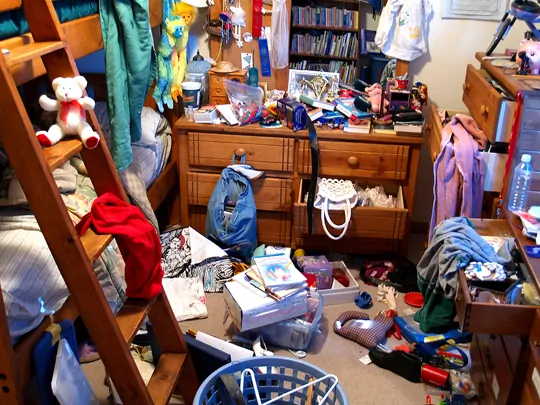 This is not a picture of my house, but last week, I felt like it was coming pretty close!
I realized as I rushed around trying to get things ready for my house guests that I was going to need to minimize and focus on the most important tasks. I guess that I was lucky – some house guests show up with NO warning. At least I did have some time, even if it was limited, to prepare.
I even had time to ask for opinions from my Better in Bulk Facebook fans and on twitter about what tasks to tackle first when getting ready for guests. With their help, I put these tips together:
How to prepare for house guests with minimal time
If you want to make a good first impression, tidy up the front room (unlike my husband who decided to clear out some empty boxes and stack them in the front room)
Clean the bathrooms (an especially important step if you are the mother of boys)
Get the guest sleeping area ready (we don't have an extra room, so I need to make sure that the basement floor is clear)
Clean sheets and pillow cases (I always have to steal a few pillows out of the kids' rooms, so a fresh pillow case is a must)
It's ok to hide some messes behind closed doors (just remember to close the doors…)
Make a quick trip to the grocery store and stock up on cereals and milk and anything else that the crowd will want to eat. Plan a few meals (even if you end up going out to dinner like we did, it's still a big help to have some food ready)
And the most important tip of all: remember that your house guests are here to visit YOU and spend time together, not critique your house cleaning skills.
I'm sure most of you are MUCH more organized than I am to begin with, but I was happy that we were able to have a pleasant weekend with our house guests, despite a dishes that remained dirty on the kitchen counter or the boxes that crowded the living room.

How do you get ready for house guests?
Image from BigStockPhoto.com