This post may contain affiliate links. Read my disclosure policy here.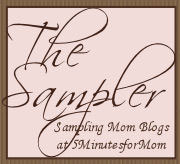 5 Minutes for Mom brings you exclusive samplings from the best mom blogs in our column, The Sampler, hosted by 5 Minutes for Mom contributing editor Shera, from A Frog In My Soup.
Today I'd like you all to meet … and sample … Mary Pielenz Hampton, the "Mom" behind RefreshMoments. Mary started blogging as a way to record God's presence in the simplest moments. She is "midlife mom" to 5 year old train-loving "Bug" and 3 year old skateboarder wannabe "Boo," wife to "Hubs" (who makes only rare blog appearances as he wishes to remain anonymous). Mary says, "Life is busy and noisy and full of distraction. It's easy to miss God's presence in the midst of it all. Refreshmoments is designed to be a place to come and be reminded that He's right here, right now; when you're doing the dishes, taking a bath, making cookies, putting on lip balm."
When you're done reading here, be sure to visit RefreshMoments to get the super yummy recipe that goes with this post!

Melting Moments
I'm not generally clutzy. I can't even think of the last time I fell. Until today. I was going to take the boys' scooter and bike to the car so they could ride them at the park. I grabbed the closest pair of shoes (a 4 inch wedge) because the sandals I planned to wear were already in the car.
I put on my sunglasses and picked up Bug's bike helmet and went out the back door. His bike was straddling the patio; it was facing the wrong way, so I grabbed the handlebars and tried to turn it around so I could steer it out to the car.
I don't know if my shoe got caught in my pants leg or if my foot got tangled in the training wheel, but all of a sudden the grass was rapidly moving toward my face. My hands were full of bike and helmet and keys and just the trajectory I was taking prevented me from putting my hands down to break my fall.
I remember wishing the helmet was on my head rather than in my hand.
It was actually a relief (a burning, painful relief) when my right knee met the ground before my face did. That instant of "whew" was immediately followed by an audible "thud" as the remaining momentum slammed the crown of my head into the ground. Next came visions of stars and the sound of my own voice saying things I was glad the boys weren't there to hear.
I paused briefly to take inventory—the stars were gone and I didn't think I was going to pass out. There was no visible blood—I didn't even rip my jeans—although I did get a nasty road rash on that knee.
The only real casualty was my relatively new Revo's that somehow must have slipped to exactly the spot on the top of my head that hit the ground. The substantial metal frames (the ones I got on purpose because they're more difficult for the boys to tweak) were bent nearly flat and one lens was shattered. Still, I was thankful they weren't on my face when they got mangled like that—I'd have certainly had (another) broken nose and probably two black eyes to boot.
I was a little apprehensive about driving, not knowing how bad the thump on the head really was, but there wasn't time to find anyone else to get Bug from school. So I brushed the catkins from my hair, loaded up the gear, buckled in Boo and gingerly climbed into the van and drove to the school.
Aside from a bit of a headache and increasing stiffness in places I didn't expect to be stiff, everything seemed fine.
At the same time it's not. That little incident in the back yard–maybe three minutes out of my day–gave me a whole different perspective than the one I had when I walked out the back door.
I could have been on the cement patio when I took my tumble and had a really different outcome. I could have landed head first rather than knee first and gotten a concussion instead of a road rash. Boo could have already been buckled into the carseat while I lay unconscious in the backyard, leaving him unattended in the car…coulda…woulda…
I think every once in a while it's good to see justhowclosewecome to disaster. Like when you're driving along and you make just the right maneuver to avoid an accident and the adrenaline that floods through your veins reminds you how fortunate you are with each beat of your heart.
Sometimes seeing ourselves headed for disaster opens our eyes to the general absence of calamity in our lives and offers an opportunity for intentional gratitude for God's protection.
So for the moment, I'm grateful to watch my kids running and playing and enjoying the sunshine at the park. I'm even grateful for the sore knee and the tweaked sunglasses that remind me that right now, things are good.
"Do not boast about tomorrow, for you do not know what a day may bring forth." Proverbs 27:1
~Written by Mary Pielenz Hampton of RefreshMoments.
If you would like to be considered for The Sampler please review The Sampler Guidelines.
This column is Hosted by Shera. She can be found at A Frog In My Soup