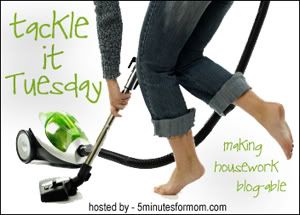 This week our new resident tackler, Jena Webber, is posting a great February tackle.

Jena, also known as the organizing mommy, blogs at Organized Everyday.

As resident tackler, Jena will host Tackle It Tuesday each week, once a month posting her own personal tackles and the other weeks of the month posting your GUEST tackles. So make sure you submit your guest tackles to be featured here at 5M4M. You can write Jena at tackleittuesday at gmail dot com.

Remember, you too can be a guest tackler at 5M4M. Just email us at tackleittuesday at gmail dot com. Send me a tackle with links (link address in parentheses) and photos. Add a description and photo of yourself too! Remember, we are here to promote your site!

Let's face it, February can draaaaaggggggg on! I'm hearing all over the blogosphere that people have a lot of snow and bad weather, and spring is a few months away.
So, I have a few suggestions to help us tackle that shortest longest month of the year!
1. Get outside whenever the sun is shining, even if it's cold. I know it's hard to bundle up and get out there. Fresh air is good for us, even if it's cold fresh air.
2. Plan something fun with an old friend. The crazy one is me. The normal one is my friend, Kathy. Between us, we have 11 children. What could be crazier than that??
3. Speaking of crazy, wear bright, happy colors. Put away the blacks, browns and greys. Time to get out the reds, oranges, and pinks! Throw some color into your life. Buy a cool throw pillow for the couch, or better yet, make one!
4. Clean up the house! You don't have to dust in the corners to spiff it up a little. Set the timer for an hour and blitz it. You'll be amazed at how much you can get done in one hour. Light some candles, put on some music and dance around with your babies in the clean space.
No resemblance to her mother! GAH!!!
5. Read about someone who is less fortunate than you are. Currently I am reading: Tortured for Christ by Richard Wurmbrand. Wow! He was imprisoned and tortured, and he lived to tell about it. His organization is called Voice of the Martyrs. Any of those books will change and encourage your heart!
Each week on Tuesday, we are posting before and after pictures of a project or trouble area that we tackled this week.
The project can be little or big – whatever you want. Basically, Tackle It Tuesday is about giving ourselves incentive, deadlines and satisfaction in getting our household tasks done.
(It doesn't even have to be housework… just whatever is on your To Do list.)
If you tackled

a project

this week, just add a comment and add your link below.

Happy tackling ladies…
Written by 5 Minutes for Mom Featured Columnist: Jena
Have you subscribed to our 5 Minutes for Mom RSS Feed and our
Giveaways RSS Feed?
Are you on Twitter? Follow us and let's tweet.