This post may contain affiliate links. Read my disclosure policy here.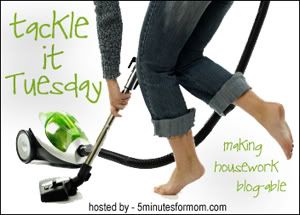 This week, we have guest tackler Toni from The Happy Housewife.

Remember, you too can be a guest tackler at 5M4M. Just email us at tackleittuesday at gmail dot com.
My name is Toni but you might know me as The Happy Housewife.
I am a homeschooling, military wife of six kids. And just to keep things interesting around here, I am expecting baby #7 in April.
I love to save money, cook, homeschool, sew, and blog. I am always trying to find new ways to use old things and can't stand to put anything in the garbage. It must be recycled or reused in my house. Life is never dull with six kids, and I love every minute of it.
As a homeschooling mom of six (soon to be seven) kids, I find my energy dwindling towards the end of each day.
In order to stay on top of my meals I decided to tackle a week of meals in one day. This way the dinner hour for the rest of the week will be stress free and the work will be minimal.
My planned dinners for this week are: tuna casserole, salmon turnovers, pizza, baked ziti, bean and ham soup, and spaghetti.
First I browned my meat for the baked ziti.
While the meat was browning I boiled water to cook the noodles for the tuna casserole and baked ziti.
Then I ground my grain for the week.
Once the grain was finished I started a batch of bread dough in the bread maker.
I chopped onions for the tuna casserole, baked ziti, and soup.
I then shredded the cheese for the pizza and baked ziti.
By this time the noodles and beef were done so I assembled the baked ziti and tuna casserole. Both of these items freeze very well, but I am storing them in the fridge since we will be eating them this week.
I started my beans soaking for the soup, which I will make tomorrow morning in the crock pot.
I made a master mix for pancakes and waffles, all I need to do is add milk and eggs for a delicious hot breakfast.
I then bagged up the flour I ground to be used later in the week for bread, pizza crust and muffins.
I cleaned up the kitchen and then shaped the bread dough into loaves. This should last us through two lunches.
Although I did have to wait for the bread to rise and bake the rest of the cooking process took about an hour and that included clean-up. I also prepared tonight's dinner while I was working.
An hour spent today will save me several hours this week in cooking time and two nights I won't have to cook at all. My family will enjoy healthy, home cooked meals, and I will enjoy a hassle free dinner.
The organizing mommy says: Wow! That is one great way to get organized! Can you imagine having to do very little cooking for a whole week?! What a great idea!!
Each week on Tuesday, we are posting before and after pictures of a project or trouble area that we tackled this week.
The project can be little or big – whatever you want. Basically, Tackle It Tuesday is about giving ourselves incentive, deadlines and satisfaction in getting our household tasks done.
(It doesn't even have to be housework… just whatever is on your To Do list.)
If you tackled a project this week, just add a comment and add your link below.

Happy tackling ladies…
Written by 5 Minutes for Mom Featured Columnist: Jena
Have you subscribed to our 5 Minutes for Mom RSS Feed and our
Giveaways RSS Feed?
Are you on Twitter? Follow us and let's tweet.