This post may contain affiliate links. Read my disclosure policy here.
My boy Jackson is a handful.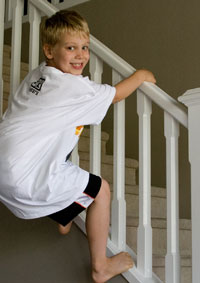 He is an active, testosterone infused seven year old who is long on energy and short on impulse control. Raising him is as exhausting as it is entertaining.
But beneath all the wildness of Jackson, is a tender heart.
It is easy to miss. When in trouble, my little monkey might hand over any unlucky soul standing nearby if it would allow him to escape punishment.
But if you get a chance to really see Jackson's heart, you will see it bruise and bleed at the thought of someone suffering.
I had a peak at his sweet heart yesterday. As I hollered at him to hurry and get in the car for school, I heard a horrific, ear piercing shriek.
"Mommy! Mommy! The worst thing has happened! The bird — the bird is hurt!" Jackson was frantic and inconsolable as he pointed to a small bird lying in the driveway, struggling and failing to fly away. (And if you know Jackson, that child does frantic like no other.)
Now, while I rescued many a wounded bird in my childhood, even sending a tar-coated pigeon in a pet taxi to a wildlife rescue an hour out of the city with my parents' credit card, I no longer have any desire to nurse a parasite loaded sparrow back to health.
I went and inspected the bird who now appeared lifeless.
I got Jackson in the van, trying to console him that the bird had died and there wasn't anything we could do.
As we drove to school, I felt for my son who was grieving over a wild bird. But I was relieved to see that my son's compassionate heart was alive and well, and without letting Jackson see, I smiled a little.
Then tonight, Jackson made me smile again.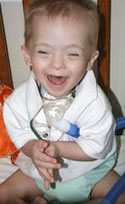 Even though Jackson has never met Parker, 5 Minutes for Special Needs' editor Tammy's son, Jackson adores little Parker.
He prays for him regularly and longs to play with him. I can just imagine how he would tend to Parker if given the chance. He would just love on that little guy!
When Parker is sick and in the hospital, Jackson's voice cracks with worry as he prays for him or asks me, "When will he be better?"
So tonight, when Jackson was pestering me to play video games on my computer, I told him that he could actually play video games and it would earn money for Parker.
"You mean I can earn REAL money for Parker JUST by playing video games?!? SWEET — I am going to play every day!"
And Jackson played his little heart out, "I am earning sooo much for Parker!"
I didn't have it in me to tell him that his score wasn't determining the amount earned. He was so excited at the thought that as his fingers flew, he was sending money to Parker.

"Boy, Parker is going to feel better in seconds — everybody is playing for him!" Jackson was simply thrilled.
I wish it were so simple. But at least as Jackson played the video game, he felt like he was helping his little friend.
While it certainly won't make Parker "better" and it might not even earn that much for his medical care, we can actually all follow Jackson's lead and help Parker by taking a break and playing video games at Playing for Parker.
Thanks Jackson for caring about sweet, little Parker!!!