This post may contain affiliate links. Read my disclosure policy here.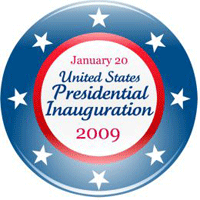 Social media helped win this election. It empowered the young, it spread a message and now it will help record history.
Timing.
The pieces fit together as if predestined: The foundations – from technology to civil rights – finally in place. A nation and a world desperate for hope. Even an inauguration in the afterglow of Martin Luther King Jr.'s birthday.
On Tuesday, January 20, 2009, Barack Obama will become the 44th President of the United States.
And whether we are Democrats, Republicans, or Independents, (heck, I am not even an American!) we can thrill at how far we have come in the last five decades. Our world will be profoundly and forever changed by this historic moment.
As significant of a role that social media played in the election, will be its role in celebrating and recording Obama's Inauguration as President of the United States — from Facebook to Twitter to CNN to USA Today to YOUR blog and a million dot coms in between.

The world is reading… what are you writing?
Link up and tell your piece of history.
If you are a blogger, leave the permalink to your post about Obama's Inauguration in the link table below.
Also, please link back to this post so that your readers can find others who are blogging Obama's Inauguration.
If you'll be twittering during the event, you can tell us in the comments. Also, you can follow us, we'll be twittering — http://twitter.com/5minutesformom