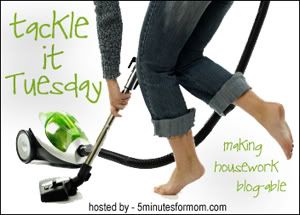 This week, we have guest tackler Crystal here tackling at 5 Minutes for Mom.
Remember, you too can be a guest tackler at 5M4M. We are officially LOW on tacklers. Unless you want to hear from the organizing mommy every week, you better
just email us at tackleittuesday at gmail dot com.
Hello Tacklers! My name is Crystal and my blog at Life at the Circus is about my attempt to balance my roles as wife, home maker and mother of three small children. Being a SAHM to a 4 year old boy, almost 3 year old daughter and a 17 mth old "not such a baby anymore" girl, provides me with a ton of blogging fodder. Sharing those moments with the blogging world, somehow makes them not so bad. I aim to keep it real as I strive to bring glory to God each day of my life.
My tackle:
Somewhere over the past year, when I was blinking, my daughter's hair grew. I promise it seems like just yesterday she was sporting this bowl cut, and now she's got hair down to the middle of hair back.
I have to tell you I have very little practice styling someone else's hair. I had one brother growing up, and he usually passed on my offer to braid his hair. To be honest, my hair styling technique typically consists of air drying, brushing and then either pulling it into a pony tail or a barrette. On "special days" when I want to "go all out" I will blow dry first.
My good friend (the one who did all of my friends' hair on their wedding days) has been urging me to braid my daughter's hair. "She'll look so cute," she'd encourage me. "You can do it," she'd promise.
The thing is, it is pretty chaotic around my house each day when I try to style her hair. Tears, screams, and chasing are all involved pretty much Every.Single.Time. So I haven't been so eager to attempt to prolong the process.
But the other day, I found my daughter in a maleable, patient mood. We were clipping nails and giggling and I realized, this just may be my moment to tackle hair braiding. So I took a deep breath, hesitant to break the spell in my bathroom that afternoon, and asked if Mommy could braid her hair.
And she said yes.
So I brushed her hair (without having to do the 100 yard dash down the hall to catch her first) and told her how Miss Jen would be so excited to see it. She said, "I don't want it to be cute or pretty, just nice." I assured her it would not be cute or pretty.
Here we have it. My first attempt at braiding my daughter's hair. It is, actually, my first attempt at braiding anyone's hair, but she didn't know that! It doesn't look perfect, but we were only aiming for "nice" , so I think this mission was accomplished. And now that I've done it once, I'm not so scared to try and tackle it again.
Jena says: not bad! Thanks for tackling with us! We expect to see both daughters braided for the next tackle!
What are you tackling this week? Link up and show off!
Join Us For Tackle It Tuesday

We're making housework blog-able!

Each week on Tuesday, we are posting before and after pictures of a project or trouble area that we tackled this week.
If you tackled

a project

this week, just add a comment and add your link below.

Happy tackling ladies…