This post may contain affiliate links. Read my disclosure policy here.
I was tired of the static interference.
I do most of my work while my baby sleeps, which means I work with a baby monitor buzzing in my ear. And buzzing is an understatement when it comes to my baby monitor. It makes so much unnecessary noise it drives me mad!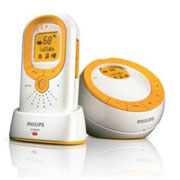 But tonight I will work in peace. I have just plugged in my new Philips Digital Baby Monitor
and I am thrilled.
It uses something called Zero-Interference DECT Technology to make sure you don't get any interference and when you do hear a peep, you can be sure it's coming from baby.
It also has some fun extra features like reporting the baby's room temperature and playing lullabies. And get this — it even works like a walkie-talkie — which will thrill Jackson to bits. Also, the parent unit is wireless so I can use the neck strap or belt clip and be free to move throughout the house.
Have I mentioned lately how much I love technology?!?
Oh and check out their cute website, A Bedtime Story for New Mommies. It's a cartoon book telling the story of how mommies used to have to endure all sorts of crazy signals on their baby monitors. It made me laugh.
Now, back to work and the hum of my laptop. I can't believe I can hear my laptop! This thing is great! 🙂