This post may contain affiliate links. Read my disclosure policy here.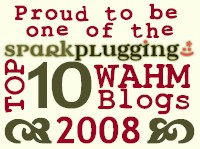 November and December are such crazy busy times for us that far too many emails slip through our tired, typed-out fingertips. And we just now realized that over at Sparkplugging we were voted one of the Top Ten Work-at-Home Mom blogs.
We are honored. Thank you!
Kelly McCausey who writes the WAHM 2.0 blog at Sparkplugging ran a contest where readers submitted and voted for their favorite work-at-home mom blogs. We are so grateful to have been included in the fabulous list of winners. Check out the other top wahm blogs here.
Kelly is an inspiration to all work at home moms. I remember seeing Kelly's smiling face as soon as I started working on-line over five years ago. She has tons of experience and her wahm sites are a fantastic resource.
Read Kelly's work-at-home success story and you'll surely be inspired.