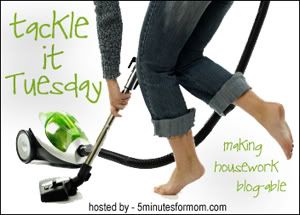 This week our new resident tackler, Jena, is posting tackling a huge project by breaking it down into one hour segments.

Jena, also known as the organizing mommy, blogs at Organized Everyday.
How do you feel about tackling the messiest, most disorderly part of your house?!?
Yeah, just like that! Overwhelmed!!!
Well, I do too sometimes. Every year, when the New Year rolls around, I get this compulsion to organize the bowels of my home, the part I affectionately refer to as: the dungeon.
Combined with the confusion of homeschooling, fitness teaching, mommying, and blogging, I tend to put and shove things in dungeon.
Hey look! There's the screens from the fall cleanup, and look there a few little sacks of flour along with some crockpots. In other words: complete chaos.
At this point, it is tempting to just walk away, shut out the lights and quit. Don't!! Let me show you what you can do in just ONE HOUR. That's all you have to commit to is ONE hour. You can do that, can't you? Need motivation to get going for just one hour? Read my post on: doing the blitz!
Here's how you start.
Clear a path, sorting trash from treasure. You can even divide two sides of the room into keepers and non-keepers.
Make a list of everything that needs to be done.
Group like things together.
Remove trash.
Formulate questions.
This will be a very intense hour. When you make a list of everything that needs to be done (#2) above, make lists of the bigger and smaller projects and how much time you think each will take.
You also have to formulate questions (#5) Such as: Why are we saving that extra water softener? and What are THESE for?
Incidentally, a lot of people get side-tracked at this time. Stay focused. Write the question down; don't try to solve it. I had 8 questions for my husband when I was done with my first session. I had 3 big projects (taking 6 hours each) and several small projects (taking 1 hour each). Some of the big and small projects will fall by the wayside, depending on whether or not you actually need or want to do them.
From here, you can schedule those little work sessions around your busy life. If you can work in one hour sessions, you can get the job done! This picture is taken after the initial sweep was done. I still have many other projects to conquer, but it felt good to get this far.
If you would like some encouragement on organizing (with your dose of daily humor), you can visit my blog: organized everyday.
The picture of the funny lady at the top of the post, is actually a relative of mine. I'll give you some information of her there also. Happy tackling.
What are you tackling this week? Link up and show off!
Join Us For Tackle It Tuesday

We're making housework blog-able!

Each week on Tuesday, we are posting before and after pictures of a project or trouble area that we tackled this week.
If you tackled

a project

this week, just add a comment and add your link below.

Happy tackling ladies…