This post may contain affiliate links. Read my disclosure policy here.

Okay, I'm a frantic woman and I need to do some serious tackling in my dinner preparation department.

This is Susan here, and I'm interrupting Janice's regular Tackle it Tuesday broadcast to share about my upcoming — several week long — tackle.

If you were peeking through my kitchen window around 6pm on any given night, you'd probably see me lamenting my disorganization and scrambling to figure out what to feed myself and my family for dinner.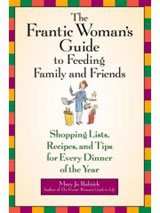 So, when I read the title of Mary Jo Rulnick's new book, The Frantic Woman's Guide to Feeding Family and Friends, I knew she was talking to me.
Mary Jo is a busy mom who has taken on the task of helping run-off-their-feet moms get healthy family dinners on the table in 30 minutes or less.
Not only does she provide quick, healthy recipes, her book outlines how to organize your kitchen, streamline food prep, store food effectively and even grocery shop for 14 days in one trip.
So, as I skimmed through the chapters, I decided this was a job for Tackle It Tuesday.
Since I am so swamped, it's going to take me some time to work my way through the process and get on track with her system. So I'm going to work away on it in small weekly pieces… some of which I will share with you here in "Tackle It Tuesday."
But, since Janice is our main tackler here at "5 Minutes for Mom", I'll only be poking my nose in every so often to share my progress.
My first step is going to be working through the first part of the book — Prep Work — where Mary Jo explains how to organize your pantry, cupboards and refrigerator.
(By the way, if you're curious why Janice isn't joining me in this tackle, she's lucky enough to have a husband that does most of her cooking. So she's not messing with success.)
Projects to Tackle:
Susan: Organize kitchen as outlined in "The Frantic Woman's Guide to Feeding Family and Friends".
I'm going to start working on this now, but I won't probably be done by the end of the day… so I won't be sharing before and after photos in this post.
Janice: Continue adding blog feeds into Bloglines account.
As Janice has already mentioned, she is in the process of adding all her regular blog reads into her new Bloglines account. So she's focusing on that for this week's tackle.
Join Us For Tackle It Tuesday

We're making housework blog-able!

Each week on Tuesday, we are posting before and after pictures of a project or trouble area that we tackled this week.

Find out more about Tackle It Tuesday here.

The project can be little or big – whatever you want. Basically, Tackle It Tuesday is about giving ourselves incentive, deadlines and satisfaction in getting our household tasks done.