This post may contain affiliate links. Read my disclosure policy here.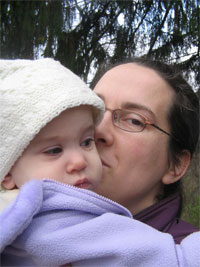 Yesterday, Veronica had a tubal ligation.
… we had decided that our current three-month-old would be our last baby. At Thanksgiving, I found my heartfelt prayer was "Thank you, God, that I am not pregnant."

Being not-pregnant has felt like coming out of a fog. I can handle the nausea and the heartburn and the sciatica of pregnancy, but the exhaustion overwhelms me.

I can't say that I will never again want a baby – how could I say no to a baby? so sweet! so wonderful! – but I know with certainty that I never want to be pregnant again.
Ending fertility is a sensitive subject, but we're having a respectful conversation about it over at 5 Minutes for Parenting.
Come on over and read why Veronica chose to stop having babies and tell us your thoughts.
Just remember… be respectful. 🙂