This post may contain affiliate links. Read my disclosure policy here.
My six year old Julia is constantly asking to eat something NEW.
"Mommy, I want to eat something I've NEVER had before. Make it with new ingredients that I've never tasted before!"
Ummmm… yeah… Julia is not exactly your typical six year old.
She's a fantastic eater in some ways, but she'll love a food one day and be bored by it the next. On many occasions, she's begged for us to have salmon and asparagus for dinner, but another night those same dishes won't interest her.
Now it's not that I don't like cooking, but I'm just so busy that I tend to resort to easy recipes that I'm used to making. But as Julia gets older, her request for NEW foods gets harder to ignore. I mean, if a 6 year old actually WANTS to try new recipes, I'd better jump on board.
In the spirit of trying new foods and after learning more about the benefits of eating Gluten-Free foods, I decided to make a super healthy oatmeal recipe for myself to replace my usual morning wheat based cereal.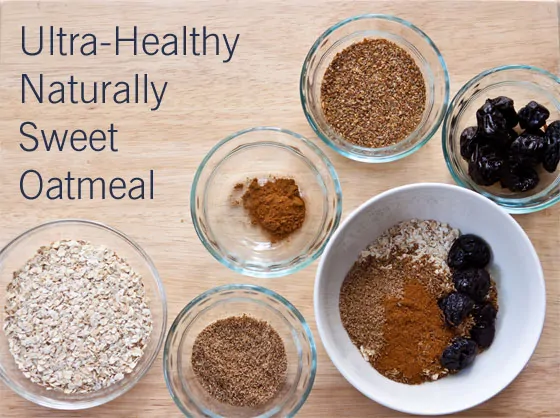 Pin It
I know Julia likes oatmeal, so I decided to feed her a few bites from my bowl to see if she'd eat it.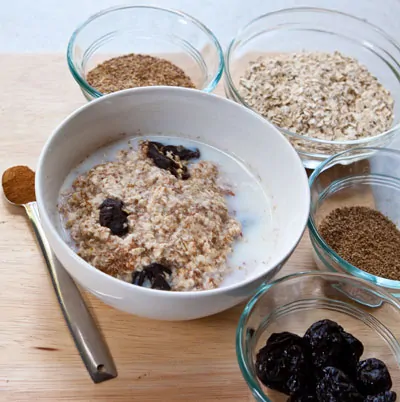 To my surprise, she LOVED it, and both her sister Sophia and the pickiest eater in the world – their cousin Olivia – even ate some too.
There is NO added sugar and a ton of healthy ingredients. Every time I make myself some, they gobble it up.
The cinnamon and prunes make this oatmeal naturally sweet and full of flavor. No added sugar is necessary, but if you want to sprinkle in a dash, we won't tell anyone.
Please note that oats may be contain traces of wheat.
I never measure the ingredients when I make it myself… but something close to the following will work well.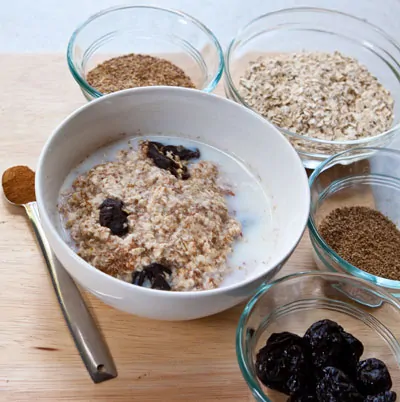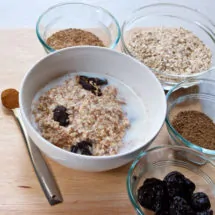 Ultra-Healthy Naturally Sweet Oatmeal
Sugar-free, gluten-free, naturally sweet oatmeal packed with Omega-3.
Print
Pin
Rate
Servings: 1
Ingredients
1/2 cup quick oats
2 Tbsp flaxmeal
1 Tbsp ground chia
1/2 tsp cinnamon
pinch salt optional
3/4 cup water
6 dried pitted prunes
1/2 cup milk optional
Instructions
Mix dry ingredients in a bowl

Add prunes

Add water

Microwave on high for 1 min 30 sec

Stir

Add milk if desired and enjoy
Notes
Amounts don't need to be exact.
Chopping the prunes first helps make the oatmeal taste sweeter and is recommended if serving to children.
Your Turn:
Do you have a tasty Gluten Free recipe we should try?  Submit it to the Udi's Look Again It's Gluten Free Recipe Contest on Facebook  – #gfcontest
Now that I know about Udi's Gluten Free Living Community, I'll be looking there for ideas for other Gluten Free recipes.
I loved combining new flavors and gluten free ingredients to create this delicious recipe. Now I'm curious to know, what do you enjoy most about trying something new?
For your chance to win a $350 William Sonoma gift card to purchase a Kitchen Aid Mixer or other gluten free cooking tool of your choice, complete these two steps:
2. Tell us that you've invited your friends to enter the Look Again, It's Gluten Free Recipe Contest AND tell us what you enjoy most about trying something new below
This is a sponsored conversation written by me on behalf of Udi's Gluten Free. The opinions and text are all mine. Official BlogFrog Sweepstakes Rules.