This post may contain affiliate links. Read my disclosure policy here.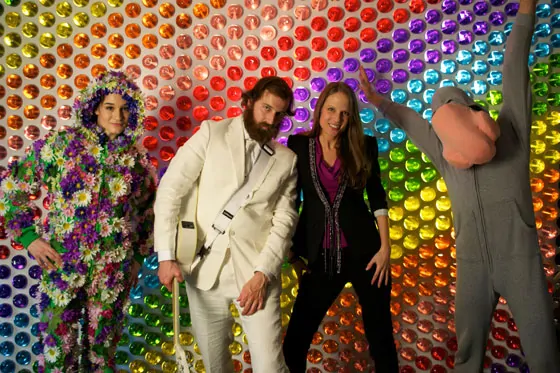 "Mom… is that Jesus???"
My four year old Olivia was sitting next to me as I opened these photos from the fabulous Method Mavens summit at Method Headquarters. And after trying to process why there was a nose-human, she sat still for a moment, and then asked me, "Mom, is that Jesus???"
To understand why I am standing in front of a lite-brite-like rainbow wall of Method hand soap, with a giant nose, a woman in a flower jumpsuit and a bearded man who according to my four year old resembles Jesus, check out my post and Method's fantastic new music video.
It will all make sense then. Well. Kind of.
Ohhhh… did I mention the hysterical Jenny on the Spot was with me too? Oh, yes she was.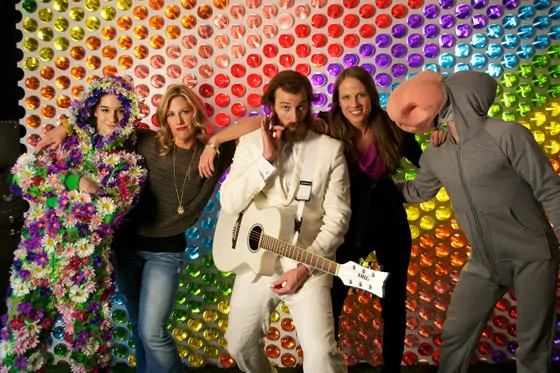 Mom Bloggers (and Dad Bloggers too!) post a photo on your site, link up and find others… Wordless Wednesday is tons of fun. (And I know it says "wordless" but I just can't bear to not write anything! If I had created it, I probably would have named it something different! LOL So feel to link up your word-full or word-less Wednesday photos!)
Leave the URL to your photo (clearly mine are never truly "wordless") and then visit others!
Here is a fun thumbnail linky:

And here is a basic linky if you prefer your linkies the good old fashioned way!

Thanks to Uisce for creating Wordless Wednesday.

Written by Janice, co-founder of this Mom Blog 5 Minutes for Mom
Did you know that Susan and I have two online stores that offer kids furniture and educational toys? A unique idea for a child's birthday gift is a wooden
rocking chair
. It will surely become a treasured family heirloom.
If you like this post, we would love it if you gave it a Stumble, Tweet, Pin, or Facebook Like. Thanks so much! We really appreciate your support of 5 Minutes for Mom.