This post may contain affiliate links. Read my disclosure policy here.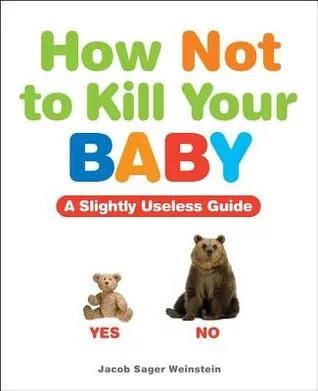 I have a bit of a parenting book collection. As a preschool teacher, I like to make some copies available to my families for borrowing, and I still have enough at home to fill a few small shelves. I've read most of them, and I have a bit of a love/hate relationship with them in general. I love being reminded to think about how I parent, but it can often be overwhelming to take in and retain all the information. And don't forget the fact that you can always find a book that tells you you're doing it all wrong.
If you share this view of parenting books, even just a little, you'll be sure to appreciate the upcoming parody book, How Not to Kill Your Baby: A Slightly Useless Guide by Jacob Sager Weinstein, set to release next week.
The laughs start immediately with a series of safety warnings on the first pages. In the same tone as the incessant safety warnings that now adorn basically everything, these nine items caution readers on ways to keep themselves and their children safe in regards to this book. (Did you know that the book is technically a choking hazard… "if your child has a large, book-shaped mouth," of course.) The text barely acknowledges its satirical nature, with just a slight wink and nod implied, and the graphs and images included in each section are as hilarious as the text.
I believe I laughed the hardest at chapter four, entitled "Push Harder, Damn It! The Miracle of Birth." Obviously Mr. Weinstein has been involved in packing a bag for the hospital, for the best items he lists include: "Baby's first outfit; Baby's second outfit, after baby spits up over baby's first outfit; Baby's third through fortieth outfits." The hour-by-hour guide to labor gives such helpful tips to laboring moms as this gem:
"At the appropriate point, be sure to ask to have a mirror positioned so that you can see your baby begin to emerge. Also be sure to ask for a blindfold so that you don't have to see your baby begin to emerge."
I honestly giggled at every single page in this funny little book, and I'm looking forward to including it in the gift bag that we will bring to a friend who is expecting her first child any time now. How Not to Kill Your Baby: A Slightly Useless Guide will surely make new– and experienced– moms laugh and hopefully breathe a little easier about the constant pressure that parents can feel about doing everything right at every moment.
We have one copy of How Not to Kill Your Baby for giveaway, US addresses only. Just for fun, leave a comment here with a piece of useless parenting advice you've received to be entered. (You'll be happy to know that the author includes the advice that a baby should ALWAYS wear a hat, lest the parent be accosted by a group of angry grandmothers!) The winner will be announced here on March 26.
The winner of When I Woke Up, I was a Hippopotamus is # 29, Kathy Stevenson.
The Jane Green novel Another Piece of My Heart giveaway is still open for another week, and we currently have even more giveaways open at 5 Minutes for Books.
5 Minutes for Books staff reviewer Dawn blogs when she can, usually with at least an attempt at humor, at my thoughts exactly.