This post may contain affiliate links. Read my disclosure policy here.
Have you ever lost sight of your child in a public place?
I unfortunately know just how awful – not to mention how terrifying – that can be.
When my twins were barely three years old, I lost one of them after their very first hockey practice in an over crowded ice rink. A crush of kids came off the ice. I was focused on one of my boys who was crying, not realizing the other was nowhere in sight. It was maybe only a total of 5 minutes but I have never felt panic like that in my entire life as three coaches and other parents frantically helped me look.
Thankfully, I found my teary eyed child before we had to call 911. And believe me… it was close.
I had Amber Alerts, police and more in my head. And I remember thinking (in the minutes that seemed to take forever before we found my son) that I just needed help as fast as possible. How long would it take to get help and find him…
With the way technology is today, people always joke that there's an app for that. When we had this experience, there sure was not. But now? There really is. How amazing is that!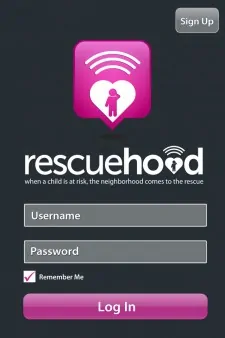 Rescuehood is an app for your iphone that retails for just $1.99!
Rescuehood rallies support for you in seconds, enlisting the help of other people who are close by. With Rescuehood, you can instantly broadcast an alert with your child's pre-built profile from your mobile phone, to other mobile phones within your geographic area. I can't imagine what it would have been like if I had been able to send that out to everyone's phones at the rink so fast!
In an ultra stressful situation, the uncomplicated interface makes it easy to broadcast an alert. Responders post information to a central message board so you can supervise communications and locate your child.
What I am really loving is that you can have a pre-built profile. Prepare profiles of your children in advance so they are always ready to be broadcast from your iPhone in an emergency. Hopefully you never ever need it. But can you imagine how incredible it would be to have all of that information ready in an emergency? All you have to do is add the description of what your child was wearing and send it out!
Can you imagine what a game changer this app could be? So many children go missing all the time! With technology like this, I can't imagine what it could really do. I envision children being found so.much.faster.
You don't even need to have children to subscribe to Rescuehood. You may be the one to save a child at risk. Rescuehood may also be used to broadcast an alert on behalf of another parent who has lost their child but does not have the app. This is not a replacement for contacting the authorities, this is a way for parents to take immediate action and ask for help from people in their surrounding area to prevent a crisis.
Right now, Resucehood is only available for the Iphone, but will soon be available on the android market as well.
Rescuehood is available on the iphone app store.
Do you feel like Rescuehood is a game changer when it comes to locating a lost child?