This post may contain affiliate links. Read my disclosure policy here.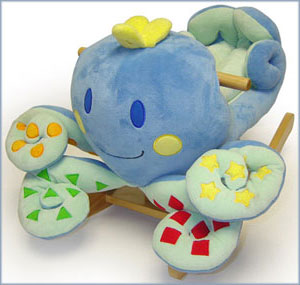 Toddler rocking toys are such fabulous gifts for babies and toddlers.
Sophia and Olivia both love climbing on and off their rockers and riding away. It makes them feel like such 'big kids'.
On Friday we had a quick giveaway for Ollie the Octopus rocking toy.
And… the lucky winner is…
#162 – Angie from 5 Vinez Monkeys.
If you're not Angie, don't worry. You can get Ollie the Octopus rocker right now for a clearance price of $49.99. That is basically below our cost.
Why such a low price you ask? Well, we simply have a few too many Ollie's in inventory and we need to make space.
Toddler Rockers are our number one product selling out like crazy in our rocking horse store. Many of the different styles are already out of stock… but for some reason, adorable Ollie is being overlooked and he's taking up space in the warehouse.
(We have NEVER cut the price of a product like this before, and we won't likely do it again for a long time…)
So, quick… click over and grab Ollie Octopus before we put his price back up.