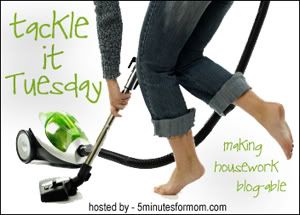 Janice here again!!!
I know I am supposed to have handed over the tackling duties, but what can I say — once a tackler, always a tackler. I see the world through "tackling" eyes.
And so I couldn't bear to not share this fun tackle with you…
("Another FUN tackle?" you say, "What is with her and FUN tackles??? We are supposed to be getting our housework done!" LOL Well, 'tis the season for fun, and so I have FUN for you!)
Along with the holidays, comes giving gifts to teachers. In Jackson's short life, I have already bought countless Starbucks gift cards.
But this year, I had an idea! What about getting Jackson to give back and "serve" his teacher?
Jackson is blessed this year with a fabulous teacher. He adores her and would love to give her something special.
So, I suggested to Jackson that we go in and clean his teacher's classroom for a special Christmas gift.
It just so happened that around the same time I was chatting with a PR firm representing Clorox. They wanted to work with us to help promote their Clean Up the Classroom campaign.
I offered to post about Jackson cleaning up his classroom and ta da — we have a FANTASTIC and FUN giveaway with Clorox.
So, make sure you jump over to my giveaway post and enter to win one of five $100 Visa Gift Cards. YES – we have $100 gift cards for five of our lucky readers. Don't miss out!
Therefore, today's tackle is Jackson and two of his friends cleaning their classroom.
We wiped and scrubbed down all the surfaces we could find. (Jackson's classmate's mom also helped out with our job. Six-year-olds can use some extra help!)
Jackson and his buddies had lots of fun and conquered lots of grime and germs.
To read the full post about this fun gift idea for your child's teacher, as well as to see a video of Jackson sharing his gift giving idea, click over to our Clorox Clean up your Classroom post and enter to win one of five $100 Visa Gift Cards.

What are you tackling this week? Link up and show off!
Join Us For Tackle It Tuesday

We're making housework blog-able!

Each week on Tuesday, we are posting before and after pictures of a project or trouble area that we tackled this week.
If you tackled

a project

this week, just add a comment and add your link below.

Happy tackling ladies…