This post may contain affiliate links. Read my disclosure policy here.
Thanks to TLC, my six year old son, Jackson, and I have some favorite TV shows in common.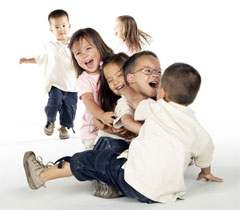 (Considering Jackson's love for Star Wars, Transformers and Pokemon, I am forever grateful to TLC that instead of watching fictitious battles between good and evil on "movie night," we can snuggle up on the couch with a giant bowl of popcorn and watch Jon and Kate Plus 8 and Little People, Big World.)
So, of course, I was thrilled to "meet" Jon Gosselin over the phone and have a chance to record an interview for a podcast here at 5 Minutes for Mom.
I knew Jackson would be thrilled as well and so I decided to get him in on the interviewing, having him prerecord his own question for Jon.
Before I interviewed him, I also asked you all if you had any questions for Jon.
So, along with Jackson and my questions, Jon Gosselin also answered three of your questions:
Colleen from Teaching Heart Mom wanted to know, "How many days and weeks of the month do you have cameras in your home?"
Hollie Koopman from Just a Little Something, asked, "How do you and Kate deal with the scrutiny lately about your show. Does that negativity bother you?"
Cathy from Semi Happy Housewife wanted to know, "Is it hard being in the public eye and getting recognized everywhere you go?"

With the holidays approaching and the economy in trouble, most of us are preparing to spend less this season. Jon has recently teamed up with Microsoft (it was Microsoft who arranged our interview) to share ideas and products for families to ease holiday budget concerns.
So I asked Jon, "What tips do you have for stretching the family dollar this holiday season and how is technology helping you and your family save time and money?"

I divided our conversation up into three shorter podcasts. Click on the players below to hear what Jon had to say…
[display_podcast]