This post may contain affiliate links. Read my disclosure policy here.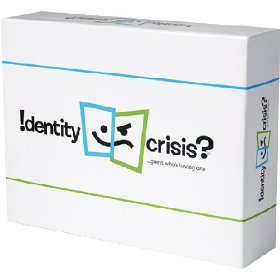 I love playing games with a big group of friends. The problem is that I rarely get together with a big group of friends these days. About six or eight years ago, when Amanda was an only child, and my friends all had only young children, it was easier. In fact, our Sunday School class had a game night one Friday a month.
But now–between school and sports stuff, church activities, and just craving downtime as a family after we've each had a busy week, we just don't get together with friends that often. But when I was asked to take a look at the Identity Crisis Game, the gamelover that still holds out hope that those good times will return, said yes. I haven't actually been able to play it with a group, but I've looked it over, and can use my expertise and past experience to evaluate its merits.
Identity Crisis is a game that was invented by a mom. She also was one of the creators of Balderdash. This game mixes a little bit of Outburst, with 20 Questions, with Trivial Pursuit. It's a two-team game, perfect for medium-sized or large groups. The goal is to get your team to guess the name of the person who you are describing. But because there are two rounds that are played with the same names, even those who might be a little bit clueless about the identities can score big on the second round, which relies on quick recall — not necessarily personal knowledge.
Find out more at their website. You can look at the rules, the cute packaging, and even play a fun online version where you can "test your i-clue."
Although I haven't played it yet, I do have a plan to try it out for real (I posted a review HERE after I did play it).
The one time that we have been able to get together to play games with friends over the last few years is New Year's Eve. This year we have two couples (and their seven children) coming over to ring in the new year this year, as in many years past. Everyone brings something delicious to eat, which results in my favorite kind of dinner — that kind of heavy hors d'oerves spread that we can snack on all night (I also shared some of the delicious recipes we ate that night).
I'm not sure what else we will play, but the Identity Crisis Game is definitely on the agenda!
We do have some to give away, but if you have a great game-playing opportunity coming up — Christmas, New Year's Eve or some other time — don't wait to see if you won. Buy it today. You can find it online at amazon and other retailers as well as at Border's Bookstores and other places that sell games, for the retail price of $24.99 (or less).
Would you like to win one of three games for yourself (Canadian or U.S. shipping addresses)? Leave a comment. Tell us — What is your favorite time to play group games?
Here's how to enter:
Please leave one comment below to enter this giveaway. You may earn additional entries for the following:
1. Subscribe to our Feed
2. Sign up for our Newsletter
3. Add our 5M4M button in your sidebar. Click here for banner codes.
4. Write a post and link back to this contest on your blog or spread the word to your friends via facebook, twitter, etc.

If you are already subscribed, are on our newsletter list, and have our button in your sidebar, you qualify for these three additional entries. Go ahead and leave your additional comments below. Your comment is your entry, so if you qualify for the additional four entries, make sure you leave five comments in total.

Entries are open from Thursday, December 11th thru Friday, December 19th. Our winners will be drawn randomly and we will announce the winners on Saturday, December 20th. Please make sure to check our site and your email address to see if you have won the prize. We must receive your reply within 5 business days.
Please see our site's Terms and Conditions of Use for a complete list of our Contest and Giveaway Rules. This promotion is void where prohibited.