This post may contain affiliate links. Read my disclosure policy here.
We were able to help 41 children!!!!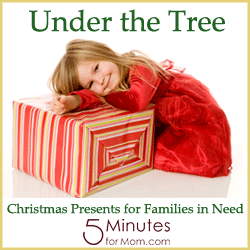 Thanks to the wonderful generosity of the participating companies and the support of YOU our fabulous readers, 41 children will receive something special this Christmas through our Under the Tree program.
Yes, toys are on their way!
Some may have already arrived and are getting wrapped and ready for their big day. We even had some special gifts for some of the mothers as well.
In total, we were able to make Christmas a little brighter for 14 families. What a tremendous blessing to help others in that way.
The requests came pouring in…
We knew there would be many families needing help this year. We knew it would be heartbreaking to choose.
The comments and emails came pouring in. As the requests quickly outnumbered the numbers of toys we had to give, I began emailing some of our contacts to see if they would be able to help us get more presents for these deserving families. I accepted even more giveaways and Erica and I scrambled to get them all posted.
Thanks so much to these companies for jumping and helping out, companies like Kodak who donated 5 digital cameras to our sponsored families!
Choosing the families to help was so hard. (A huge thank you to Erica who spent hours going through the comments and emails, matching gifts to families!)
Here is a bit of a sampling of the kinds of situations of the nominated families:
One family with three children recently lost their mom and unborn sibling very tragically and unexpectedly. We can only imagine their agony this Christmas. Hopefully our small tokens of Christmas love will help bring them a bit of Christmas cheer.
Another family of eight, has been thrown blow after blow. From cancer scares to lost jobs, to a brand new baby born with severe medical problems. Finances are beyond stretched and Christmas wasn't even going to happen.
There were a couple of families who year after year gave to others around this time, teaching their children the importance of giving. But this year due to illnesses and lost jobs, they are the ones in need.
And on and on the heartfelt nominations rolled in. We wanted to help everyone, but of course we had to narrow down the list.
If you or your nominees were not selected, please forgive us. It was an impossible task. Thank you for participating and for caring so much to nominate your friends and families.

Just imagine how much we can do next year…
Of course, next year we hope to help even more families.
But here is where we need YOUR help. For our programs like Under the Tree and Blogs Can Change Lives to thrive, we need to show companies that you ARE taking notice of their goodwill and efforts.

YOU and your comments and clicks are POWERFUL! When you support the companies through leaving supportive comments acknowledging their involvement in these initiatives, it motivates them to spend even more to help even more people! (They are businesses after all and they do have to look after their bottom lines.)
How you can help:
Please LEAVE COMMENTS thanking and acknowledging the participating companies.
Please CLICK THROUGH to their sites and stores, spending your time and your dollars with companies that are supporting programs helping families in need.
Thanking, Thanking, Thanking, from the bottom of our hearts!
The heartfelt Thank You's that we received warmed our hearts and made us teary-eyed as well. The families receiving the gifts were so grateful. So, we pass on their thanks and our thanks to you and to the fantastic companies involved.
Thank you to these generous companies who donated gifts to our Under The Tree Program. We couldn't have done it without you!!!
Readers – please remember to show them your appreciation by clicking over to their sites. 🙂
Thank you again for being part of the 5 Minutes for Mom family! We appreciate you so much and we pray you are having a blessed and happy holiday season with the ones you love.
Merry Christmas!!!