This post may contain affiliate links. Read my disclosure policy here.
If you were hanging out on Twitter yesterday, you might have noticed a bunch of us bloggers tweeting while in mid conversation with Patrick Dempsey.

Yes — we were talking to Patrick Dempsey… in his living room.
Well… he was in his living room, (or somewhere in his house — at one point someone delivered a package to his door,) and most of us were at our respective houses in various states ranging from unshowered to half-dressed to nursing infants.
But, while I can safely say we were all wishing we were sitting there interviewing him in person, the conference call format was still darn fun.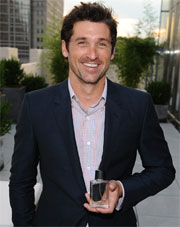 And WHY was Patrick Dempsey chatting it up on a work day with a bunch of bloggers?
Well – why not? We are very exciting people. We can nurse, tend to our children, interview celebrities and blog about it – all at the same time. (It is true – just ask Steph! That girl had her post up before we had even heard McDreamy say goodbye. And she did it all with a baby attached to her breast. Yes, she is definitely having some serious ADVENTURES in Babywearing!)

But I digress…
Our "coolness" wasn't really the reason that Patrick picked up the phone to spend an hour with us mom bloggers. (But I must say, Patrick did tell us that we bloggers are powerful — that what we say negatively or positively will effect people deeply and that they understand that and are happy to be talking to us! So, yeah for bloggers — Patrick Dempsey knows we are important!)

Patrick has just launched a new fragrance with Avon called UNSCRIPTED.
"A fragrance?" you ask, "With Avon?"
I was a bit surprised too, but on the call we quickly discovered how natural this partnership actually is.
Patrick's wife Jillian Dempsey is the Global Creative Color Director for Avon.
And Avon is a huge supporter of Breast Cancer, a cause very important to Patrick. (Inspired by his mother's battle with cancer, Patrick even opened The Patrick Dempsey Center for Cancer Hope and Healing at Central Maine Medical Center.)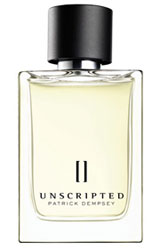 Therefore, when Avon asked him to do a fragrance, he was so confident in Avon and what the company stands for, he said "Yes" and then dove into the process, determined to be intimately involved with the development.
From his own personal marketplace testing, (he went on a fragrance shopping rampage,) to learning the intricate process of developing a fragrance, to working on the marketing concept, Patrick was involved and committed to the process of creating Unscripted.
On the call, Patrick's familiar voice was relaxed and friendly as he answered our questions and bantered back and forth with us.
The best part of the call was Patrick interviewing Beth from I Should Be Folding Laundry! Amused by her blog's name, Patrick laughed and turned the interview on Beth, asking her questions and entertaining us all. Unnerved and shocked that Patrick Dempsey was asking HER questions, Beth still did a great job trying to keep it together and answer his questions. (Beth's post about the experience is HYSTERICAL – you must click over and read it!)
The other fabulous bloggers on the call were Steph from Adventures In Babywearing, Kim from Jogging In Circles, (thanks for helping me with my tech issues!) Amy from ParentSphere, Arianne from To Think Is To Create, Michelle from Scribbit, Beth from I Should Be Folding Laundry, Katja from Skimbaco Lifestyle, Trisha from MomDot and Maria from BSM Media/BlueSuitMom. (Thanks Maria for arranging the call!)
There were also several fashion and beauty magazines on the line, but we only heard from Cosmo. The rest of the time, it was only bloggers asking questions.
Personally, I always have a strong opinion about the scent my husband wears. So I asked Patrick, "As women, we know what we want our men to smell like. How did your wife help you in the development of your fragrance."
Patrick laughed and replied that he just had to look at his wife to know if she liked it. He then talked about how he enjoyed the chance to work with Jillian and then chatted back and forth with me about how after ten years of marriage he has learned to listen to his wife's opinion, sharing a story about his wife choosing a perfect table for their house. (I told him he was a very wise husband!)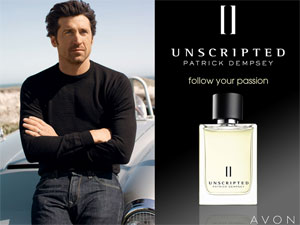 Everyone on the call was sincerely impressed with the fragrance. My sample just arrived today and I love it. Not too strong, not too sweet, just right. I have a terrible time with fragrances giving me headaches, but this one seems to be good. Thanks Avon and Patrick!
The call was not only fun for all of us involved, but it was a great example of how mainstream marketing is realizing how effective and important reaching out to the blogging world is becoming. Doesn't it feel great that people – even Patrick Dempsey – are recognizing that YOU make a huge impact in the world of marketing. Yes, girl – YOU!
Patrick himself commented twice on the power of bloggers and we heard back from Avon that Patrick loved the experience and after the call he and the Avon team even went online and read our tweets. Woohoo – Patrick Dempsey was checking US out. (Patrick feel free to read us ANYTIME!)

So ladies — it is now time for YOU to get your hands on Patrick's UNSCRIPTED. We have one bottle to giveaway AND we have a free shipping code for you as well!
Promo Code – JINGLE30
Expires – 1/31/09
It's for free standard shipping with a $30 order when they shop with an eRepresentative, and since Unscripted is $32, you will qualify for free shipping when you buy the fragrance!
To enter to win, leave us a comment between today, Wednesday, December 9th and Friday, December 19th, and we will announce a winner Saturday, December 20th.
In your comment tell us something fun — something about fragrance, whether you are a Grey's Anatomy fan, or PERHAPS tell Patrick that you would love to have him do a podcast here at 5 Minutes for Mom.com You never know — he might read the comments. He did say we online folk were powerful. 🙂
If you tweet or spread the word via facebook, your blog, etc., just leave comments letting us know and you will have additional entries.
Please see our site's Terms and Conditions of Use for a complete list of our Contest and Giveaway Rules. This promotions is void where prohibited.
And remember to visit the other participating bloggers' sites as they all are running giveaways as well.