This post may contain affiliate links. Read my disclosure policy here.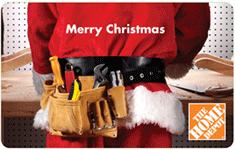 I'm curious ladies, what would you do with a $500.00 Gift Card to Home Depot?
Would you use it for some home repairs? It would be the perfect solution to those pesky problem areas that you can't seem to find the spare money to fix.
Would you purchase a couple of really nice items for your family? Maybe now you could get that outdoor grill that you had been eyeing all summer long.
Would you hit up the after Christmas sales? It would be a great way to get all of next year's holiday decor at a fraction of the price.
Would you put it toward that new washer and dryer? Laundry wouldn't be a drag if you could just have the washer/dryer combo that you really wanted, right?
Now stop all of those thoughts for just a minute. I know, I know you are still envisioning the front load washer, aren't you? A gift card to Home Depot sure would be a treat, wouldn't it?
In fact, I bet there are some people that you still have left to shop for? Wouldn't a Home Depot Gift Card make the perfect gift for the handyman or do-it-herself-er in your life?
Heck, it would be a great gift for everyone in your life. From their wonderful selection of home decor, to their huge array of appliances, tools, storage solutions and outdoor furniture – just to name a few – Home Depot makes one of the best shopping destinations.
So for those loved ones you can't seem to cross off of your Christmas list, the Home Depot Gift Card is the answer. And with 17 fun holiday designs to choose from, it is easy to personalize it for your special recipient.




There is a darling gingerbread man gift card that can be decorated with stickers. The kids would have a blast sprucing that one up for their daddy. There is even a card that looks and feels as if it was covered in handy-man's wrapping paper – duct tape.
You could even place the card in a special tool box gift card holder. With so many creative touches, Home Depot has really made their gift cards festive and exciting.
And now since you spent a moment thinking about others, I'll let you get back to dreaming about that front load washer again and how you could win a $500.00 gift card to Home Depot to put toward its purchase.
Yes, you could win a $500.00 gift card to Home Depot. Here's what you have to do to enter:
Please leave one comment below to enter this giveaway. You may earn additional entries for the following:
1. Subscribe to our Feed
2. Sign up for our Newsletter
3. Add our 5M4M button in your sidebar. Click here for banner codes.
4. Write a post and link back to this contest on your blog or spread the word to your friends via facebook, twitter, etc.

If you are already subscribed, are on our newsletter list, and have our button in your sidebar, you qualify for these three additional entries. Go ahead and leave your additional comments below. Your comment is your entry, so if you qualify for the additional four entries, make sure you leave five comments in total.

Entries are open from Friday, December 5th thru Friday, December 12th. Our winner will be drawn randomly and we will announce the winner Saturday, December 13th. Please make sure to check our site and your email address to see if you have won the prize. We must receive your reply within 5 business days.
Please see our site's Terms and Conditions of Use for a complete list of our Contest and Giveaway Rules. This promotion is void where prohibited.
We want to be sure your card is received in time for Christmas, so this giveaway is only open until Friday, December 12th. Hurry, enter now!