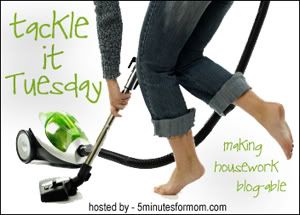 This week we welcome our new resident tackler, Jena Webber.

Jena is a long time tackler and won me over with her enthusiasm and persistence in requesting to become the TT editor.

Jena, also known as the organizing mommy, thrives on the adrenaline rush of a clutter-free space, an encouraging talk with a friend, and a funny story. She homeschools her five kids (ages 16-3), teaches pilates, and loves to write a crazy organizing blog, Organized Everyday.

She doesn't claim to actually BE organized everyday, but she would like to have you join her in the process of getting there. She looks forward to the Tuesday Tackle all week long.

As resident tackler, Jena will host Tackle It Tuesday each week, once a month posting her own personal tackles and the other weeks of the month posting your GUEST tackles. So make sure you submit your guest tackles to be featured here at 5M4M. You can write Jena at tackleittuesday at gmail dot com.
Hi, I'm Jena, a.k.a. "the Organizing Mommy" of Organized Everyday. What an honor to be chosen to be the new editor of Tackle it Tuesday! I will really miss that Apron Queen; she was awesome.
Well, I love tackling projects!! I should call my blog: tackling everyday, since that is sort of my style.
This week I am going to instruct on: how to declutter a purse. You can choose any purse in your house, and you don't need one of those fancy ones with all the pockets to have an uncluttered purse.
What is it that makes a purse cluttery anyway?
1. We put everything everywhere.
2. We shove anything in there, even if it doesn't belong.
3. We have no system of finding something when we do need it.
As you can see, when you dump out everything your purse is carrying, it can get overwhelming to look at. In my case, I was carrying around a lot of things that had other homes. So, I went ahead and threw away the trash and returned the traveling items.
As it is with every type of organization, you need to assign "homes" for things. How you label those "homes" is up to you. You can use: masking tape, a label maker, safety pins with little labels attached, or in my case, a durable ribbon with a colorful permanent marker.
It really does work! Even though my purse is HUGE, I could still find my teeny-tiny phone when it was ringing because it was right in the spot marked, "phone".
Having trouble getting motivated? Read my article on doing a blitz. You'll be on a tackling rampage in no time.
What are you tackling this week? Link up and show off!
Join Us For Tackle It Tuesday

We're making housework blog-able!

Each week on Tuesday, we are posting before and after pictures of a project or trouble area that we tackled this week.
If you tackled

a project

this week, just add a comment and add your link below.

Happy tackling ladies…