This post may contain affiliate links. Read my disclosure policy here.


Last month we asked you, our lovely readers, to help us find some families who could use some help this Christmas season. We were flooded with responses from so many of you and touched by your desire to help.
As we have been reading over the nominations, we have been moved, sometimes to tears, by the stories of so many parents persevering through some very difficult times.
We are still narrowing down the families and wish that we were able to help each one.
We have also been deeply touched by the generosity of many companies who have been helping us to fill our sleigh of gifts for our Under The Tree Program. First, we have the companies who originally came on board for the Christmas Giveaway, generously donating items for our sponsored families.
But then we had companies immediately write to us, upon hearing about our program and seeing our posts, to find out how they could help. Although they knew it was too late to join in on the Christmas giveaway, they still wanted to donate something special to our families in need.
One of our favorite things about the Christmas season, is the generosity, goodwill and love that is poured forth from others.
Kodak was one of those companies to respond with their donation of five Easyshare M863 Digital Cameras! These fantastic cameras not only have 3X optical zoom, HD picture capture, but also come in six different colors.
While we have many toys to give out to our sponsored families, it is wonderful to be able to provide some gifts to the parents as well. We know how much they must be sacrificing right now.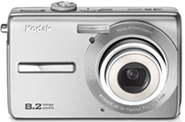 The Kodak Easyshare M863 Digital Camera is simple to use and packed with the features you need to get great looking pictures.

Amazing quality prints with 8.2 MP
8.2 MP means you can make stunning prints up to 30 × 40 in. (76 × 102 cm)
HD picture capture
Capture beautiful HD pictures in 16:9 format
View your pictures in high definition on an HDTV or other HD devices
3X optical zoom lens
3X optical zoom (35 mm equivalent: 34–102 mm) gets you closer to your subjects without reducing image quality
Face detection technology
For great shots of friends and family, face detection technology locates faces and automatically adjusts camera settings
Shoot video with ease
Record continuous VGA video (640 × 480) at 15 fps with sound and on-camera editing
Multimedia slide show
Tell your story your way using the multimedia slide show feature.
Thank you so much Kodak for your generous donation.
And stay tuned for an exciting giveaway from Kodak later this week! They would like to offer some Christmas fun to you as well.
Also, by the end of the week, we will be posting about our selected Under the Tree families and the wonderful companies that are helping them this holiday season.
Thanks so much Kodak — we know five families will be squealing with delight as they capture their holidays on their new Kodak camera!