This post may contain affiliate links. Read my disclosure policy here.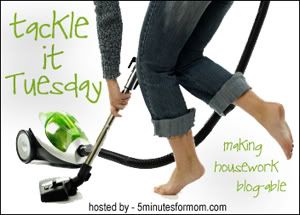 Hello Tacklers!
It's Janice again.
Next week, our new 5M4M resident tackler, will be here starting her new hosting duties.
Choosing one person from a great list of applicants is always so hard. But to keep Tackle It Tuesday running, I need some help. Things are just too crazy busy around here. So I needed to choose someone.
Our new 5M4M resident tackler is…
Jena from Organized Everyday.
Jena is a long time tackler who emailed me several times asking for the "job." Two weeks ago, when I announced that we were once again looking for a new tackle editor, she emailed me seconds after I hit publish. I figured such eagerness and commitment to TT definitely deserved to be awarded!
Please remember though that we will be regularly featuring GUEST TACKLERS. If you want to be featured as our guest tackler one week, just email us at tackleittuesday at gmail dot com.
So next week, our new 5M4M resident tackler, Jena will be here.

In the meantime, I thought I would share my latest tackle with you.
Today, I had to test out the new Dirt Devil KWIK vacuum for a special giveaway, "The 12 Days of Cleaning," we are running with Dirt Devil from December 1-12.
The dust and crumbs hiding in my laptop keyboard have been driving me crazy, so today I got to tackle cleaning it up. I must admit, it was an easy, quick tackle. The KWIK desktop detailer is really effective and fun to use.
I could get right under and between the keys with the soft brush tool. After taking my pictures, I even cleaned the outside of my camera too!
Here is my keyboard BEFORE:
Here I am IN PROGRESS:
And here is my AFTER shot:
The KWIK would definitely be a fun, unique gift to give this holiday season.
And if you want to win one, you could be one of our TWELVE winners! For 12 consecutive days starting December 1 and running until December 12, Dirt Devil will give away 1 KWIK vacuum to one of our readers!
All you have to do is submit an entry form. Click on the button and it will take you to our 5 Minutes for Mom/Dirt Devil entry form.
Remember — YOU CAN ENTER EVERY DAY!
I sure had fun with this tackle. And now I get to look down at a dust-free, crumb-free keyboard. Ahhh – it looks so good. Thanks Dirt Devil!
Hey moms – Like computers? Interested in health care?

Combine the two with a health information management degree from the University of Cincinnati. Finish your degree in as little as two years without interrupting your career and take advantage of the growing demand for health care jobs!
What are you tackling this week? Link up and show off!
Join Us For Tackle It Tuesday

We're making housework blog-able!

Each week on Tuesday, we are posting before and after pictures of a project or trouble area that we tackled this week.

Tuesday morning: Mr. Linky is down! You can add your link within your comment, and keep checking back. Sorry.
If you tackled a project this week, just add a comment and add your link below.

Happy tackling ladies…