This post may contain affiliate links. Read my disclosure policy here.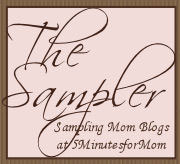 5 Minutes for Mom brings you exclusive samplings from the best mom blogs in our weekly column, The Sampler, hosted by 5 Minutes for Mom contributing editor Shera, from A Frog In My Soup.
Meet Sharon McCoy, author of the blog Happily Ever Lafter. She is a Kansas girl who is relatively new to the blogging world. She's happily married to "the best guy in the whole world", and has 4 "young-unz". It's her highest honor to serve the Lord — and if she has FUN along the way, that's an added blessing! "I take to heart the verse: "A cheerful heart is good medicine…" Proverbs 17:22, and look for the humor in everyday life, while resting in the only true joy, which is found in the Lord."

Dental
Now that I'm JUST past the age of, um ….. let's go with 33, I've noticed an alarming trend. I've begun to swiftly fall apart physically. Particularly my wimpy teeth.
I've quipped the sassy line, "that was as fun as a root canal" in my (ever-so-brief) life. After my dental appointment earlier this week, I'll now be able to deliver that line with unadulterated, first-hand authority.
For the record, I am blessed with a fine dentist. Despite the fact that he continually tries to converse with me, while I'm daintily holding my mouth open as far as my jaw will possibly allow. I found myself reduced to communicating with a series of animated moans, and that's just whack. (Mom, that's street talk for "not right"). Fo-shizzle.
Interesting fact: Did you know that rotting tooth pulp often gives off a foul odor when disturbed, much like stirring up the garbage can at the curb on trash pick-up day? TRUE. Or so I've heard.
But WHAT comes next, you ask? The dentist then uses a small, needle like tool to repeatedly scrape and stab (imagine the Psycho shower scene) the interior of the tooth's roots. Come to think of it, it was very similar to the technique we used when carving our jack-o-lantern! I had no idea I was practically a dentist! I could totally do your next root canal for you, if needed. It would seem I have experience …. Sort of.
Moving on ….. At that point, they squirted a bleach solution into my mouth to sanitize the hollowed roots. And I don't think I used that much bleach the last time I scrubbed our bathroom. In 2004.
While the bleach was "doing its job", a la Scrubbing Bubbles, the assistant graciously adjusted my chair so I could sit upright and leisurely read a magazine. Oh, what a treat to flip through Dentistry Today.
It felt nice to let the blood drain back into the rest of my body where it rightly belonged. Being totally numbed on one entire side of my face, I proceeded to unknowingly drool – to the extent that they all had a big laugh when they returned to continue my torture, and actually had to change my clipped neck bib. Good times. MOP UP IN ROOM 3, PLEASE!
I was informed that we were in the home stretch. And I accordingly grunted my excitement.
The dentist then packed each root with a rubber type substance. Each time he finished a section, the assistant handed him a heated pointed instrument, which he proceeded to cram into each root. FORCEFULLY. In fact, I could have sworn he was doing a handstand, using only the instrument as his base.
I'll admit, the smoke rolling off the instrument right under my nose was a bit unsettling. Seeing my puzzled (panicked?) eyes, he explained that he was melting the rubber filling so that it would ooze into all the nooks and crannies of the roots.
With all the smoke and such, I thought he might start juggling his dental tools, like those fancy cooks do at the Japanese Steak House. AND A BUSINESS VENTURE IS BORN! Not just a root canal – ENTERTAINMENT, folks! You could even bring a date.
Except after seeing the dental bill, we won't be able to afford a date night for a while. We'll just have to be content hanging out, watching our jack-o-lantern glow for entertainment, and huddling over it for warmth.
~Written by Sharon McCoy of Happily Ever Lafter.
If you would like to be considered for The Sampler please review The Sampler Guidelines.
This column is Hosted by Shera. She can be found at A Frog In My Soup