This post may contain affiliate links. Read my disclosure policy here.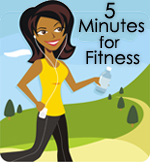 Get up and get moving this Thanksgiving Day and give thanks to your body! It is time to put down the bird and lace up your shoes instead.
Here is the plan:
Thank your legs: Do 1 minutes of squats, either on the wall or stand alone. Follow that with one minute of lunges. Thank your knees by being gentle and only going to the point of tension, not pain.

Thank your arms: Push ups! (yes, you can!) I involve my son by doing as many as I can while he sings the ABC's.
Thank your heart: Jog around your house or run up and down your stairs for several minutes. Work up a sweat and get your heart rate pumping!

Thank your abs: Crunch time! Keep your abs drawn in and keep your lower back pressed into the floor. For added resistance, I like to place my baby on my stomach. He thinks it is great fun and I get a tougher challenge.
Thank your mind: We are an over-stressed society. Take a few minutes to bring some calm back into your life by meditating or doing some calming yoga stretches.
How are you giving thanks and moving MORE today?

This column is hosted by Lisa. She can be found doing squats and lunges over at Workout Mommy.