This post may contain affiliate links. Read my disclosure policy here.

Project to Tackle: My Purse

I'm back – and just in time for Tackle It Tuesday. But barely – I got home couple of hours ago.
So this is a tackle from the road!
Last weekend I bought a cool, little purse. So I needed to downsize from my big, throw everything in including a diaper for Julia, purse. This was not going to be easy. I could barely squeeze my wallet brimming with old receipts in this new, funky, little purse.
I had no time to tackle it last week, so I brought both of them with me this weekend – my essentials in the new and my extra junk in the other one and tackled it all!
What Came Out Of My Old Purse: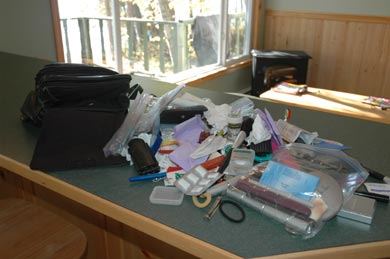 Here is the mess that came out of it, including:
8 hair ties
5 pens
3 nail clippers
7 nail files
10 tampons
14 Band-Aids
20+ Kleenexes
40+ receipts
A bunch of makeup (I almost always put my make up on in the car – at stoplights or quickly when I arrive at my destination.)
Yes, that is what happens when you have a big purse. You just keep adding stuff and have no idea what is already in there!
And here is my new look:
(The extra bag of make up will go back in my makeup case.)
My New Little Purse: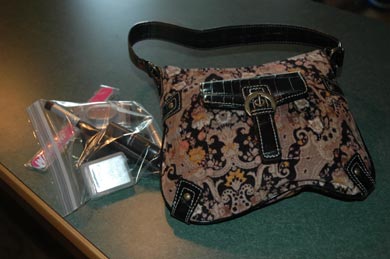 Join Us For Tackle It Tuesday

We're making housework blog-able!

Each week on Tuesday, we are posting before and after pictures of a project or trouble area that we tackled this week.

Find out more about Tackle It Tuesday here.

The project can be little or big – whatever you want. Basically, Tackle It Tuesday is about giving ourselves incentive, deadlines and satisfaction in getting our household tasks done.