This post may contain affiliate links. Read my disclosure policy here.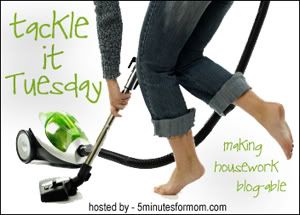 Hello Tacklers!
It Janice here.
Once again, we are in the process of trying to choose a new 5M4M resident tackler.
In case you missed last week. Lisa, our resident tackler for the past several weeks, has decided to retire from her online world to pursue a work at home nursing position. We wish her all the best! 🙂
Since Erica, Susan and I have been so busy trying to get all the Christmas Giveaway posts up, as well as finalizing and announcing the recipients for Blogs Can Change Lives PSP Giveaway for hospitalized kids, we haven't had time to get the new resident tackler all ready to go.
By the way, make sure YOU TACKLE the Christmas Giveaway list! We have added so many new giveaways in the past few days, it is crazy! The entries close on November 28, so make sure you get over and enter to win.
But, no worries, because we have a fantastic GUEST TACKLER – MamaNeena – here to inspire us today.
So here she is… MamaNeena!
I am a stay-at-home mom doing my best to stay hopeful in the midst of the real chaos of raising three children. I survive on coffee and very little sleep. I blog for sanity and for posterity.

I am so excited to be a guest tackler this week! This gave me the motivation I needed to finally do something about my overly crowded refrigerator.
The inside of my fridge never seems to give me any trouble. There is the occasional spill or forgotten apple, but I can usually catch these when I clean it out once a week on grocery and leftover day. The outside of the fridge is another story.
Since my oldest are now back in preschool the outside of my fridge has become overrun with artwork, photos, memos, notes, and any other reminders we throw on there. It was getting to the point where I would try to hang one thing and three would fall down! Plus, I never seemed to have paper and a pen handy to jot down messages or reminders. I wanted to make the outside more useful by turning it into a small message center while still maintaining some of its character with the kids' artwork.
I started by taking everything off the fridge, including all that stuff that was hiding out of sight on top of the fridge. I put it in one big pile on the counter and began sorting through what I wanted to keep and what needed to be put away elsewhere.
While I was going through the mess I realized that, while I love photos, I didn't need that many pictures (many of which were horribly outdated). I picked out the ones that I loved the most and put the rest away. Then I put them in some magnetic photo frames that I picked up long ago at a local discount store. This will help keep them from getting damaged, torn, or destroyed.
I threw away quite a few things, including magnets that were too weak to really hold anything, an old piece of candy I found on top of the fridge, and some dental floss that was not only old, but was also doing us no dental good getting dusty on top of the fridge behind a burned down candle!
Before I started putting things back on the fridge I took five minutes and wiped down the outside. I could hear my own mother shouting from Ohio that I had best not put anything back on there until the surface was clean. Okay, mom!
I put back the pictures, hung up my new dry erase board for messages and weekly menus, and placed a pad of paper and a few pens in a great magnetic cup I found on clearance for $2.47! I even found two clips that the children could use to hang up their artwork. As they bring home new work we can rotate out the old!
When it was all said and done I had a clean fridge, a new message center, and a great spot for artwork! It only took me about 20 minutes from start to finish and I won't have to worry anymore about knocking a bunch of stuff down!
Thanks for the guest tackle MamaNeena! If you want to read more from MamaNeena, head over to her blog for a visit!
Hey, Tacklers, Running a household can be tougher than running a business, so why not use that experience to get an online MBA from Marylhurst University in the comfort of your own home?
Join Us For Tackle It Tuesday

We're making housework blog-able!

Each week on Tuesday, we are posting before and after pictures of a project or trouble area that we tackled this week.
NOTE: It appears Mr. Linky is having technical issues again. If the table is missing, please leave your link in the comment section and/or come back later to see if the problems at blenza.com have been resolved.
If you tackled a project this week, just add a comment and add your link below.

Happy tackling ladies…