This post may contain affiliate links. Read my disclosure policy here.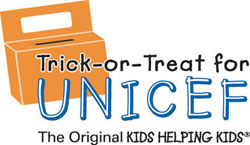 That little orange box was as much a part of the night as the costume and makeup we layered on.
At each house we went to, we proudly held out our little boxes as a chorus of "UNICEF" echoed through the doorway.
Halloween may have a distasteful heritage, but UNICEF claimed the night for good and we happily joined in to make sure our treat bags weren't the only things getting fed.
Today the tradition carries on and UNICEF continues to help hundreds of thousands of children all around the world.
Maria Bailey is the founder of BlueSuitMom.com and the host of Mom Talk Radio and the new show on Lifetime, The Balancing Act.

She is also a mother of four active kids and is working with UNICEF to help spread the word about Trick or Treat for Halloween.
I talked with her about the program and how we can help our children turn Halloween into an opportunity to give.
Janice: Hi Maria, thank you so much for joining us today. Can you tell us a bit about UNICEF – what countries are they working in and what is their mission?
Maria: Unicef works all over the world but all this week you can see how they are working the Congo in Africa to get children water and food before the rainy season. You can see their trucks in the background of Anderson Cooper 360 spotlight on the poverty and starvation in Congo.
Janice: How did you get involved with UNICEF?
Maria: I participated in Trick or Treat for UNICEF when I was a little girl. Then as mom, I realized how easy and fun it was for me to use Trick or Treat for UNICEF to teach my children about giving back to the world. They know that a few dimes can actually feed a starving child in Africa.
Janice: Where can parents get more information about UNICEF? How can they get their kids excited about sharing with those in need through UNICEF?
Maria: Parents don't have to wait for their child's school to participate in UNICEF. They can go www.unicefusa.org/trickortreat to order their free kit along with short lessons to teach your children how their actions are benefiting children around the globe.
Janice: What if parents have decided not to have their kids trick or treat or celebrate Halloween this year. How can they still help through UNICEF?
Maria: That's what's so great about Trick or Treat for UNICEF, you don't have to go door to door to participate. My children and I clean out drawers and couches to find loose change. Last year, my daughter emptied all the trays of loose change from my car into her box. This year, my seven year old daughter hit up her thirteen year sister the day after her birthday and the older sibiling put ten dollars into her orange box.
Janice: Thanks again Maria and thanks for all you are doing to help spread the word about UNICEF.
You can find Maria at BlueSuitMom.com and on Mom Talk Radio, where Maria tackles issues important to moms, featuring expert guests with real-life answers. Maria also blogs at http://blog.bluesuitmom.com.