This post may contain affiliate links. Read my disclosure policy here.

Such a fun assortment of toys we have for you in our second Hasbro Giveaway. This is the perfect giveaway for a family with several children, that's for sure.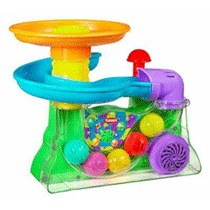 First, we have a fun toy sure to bring smiles and squeals from your little one. Janice also tried out this toy with Olivia and they both LOVE it. Janice says that the Busy Ball Popper is one of her all time favorite toys!!!
The Playskool Busy Ball Popper is poppin', droppin', air-powered fun!
Simply drop the balls down the track and they pop back up again. The action is accompanied by silly sound effects and 8 fun songs. For Ages 9 Months and up, (My two-year-old loves it). Retail Value, $19.99.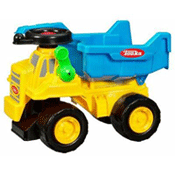 Next up is a favorite of all little boys, a TONKA Dump Truck. This TONKA-tough dump truck delivers skill-building activities and loads of fun to boys of all ages!
Your little one will love its real dumping action and spend hours placing the three "boulders" into the truck bed, only to dump them out and start again.
The working steering wheel turns the front wheels, and as the rear wheels turn, the truck makes rumbling noises. Retail Value $19.99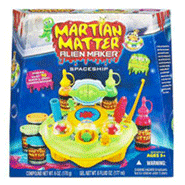 Finally for the older child we have one of Parents Magazine 2008 Best Toys of the Year, The Martian Matter Alien Maker Spaceship. Get ready for some creative fun that's totally out of this world!
Jackson was our toy tester for Martian Matter this summer, and he loved it. If you are considering this creative toy for one of your kids, be sure to read Janice and Jackson's reviewfrom August.
Using the LUNAR LAVA and METEOR MOLD compound, your child can create more than 90 different wacky alien combinations.
With the included tools your child can then dissect their creations or choose to fly them around in the spaceship.
Spaceship playset comes with 14 alien half-molds, plastic knife, roller, tweezers, cutter, 3 two-ounce bottles of LUNAR LAVA gel and 3 two-ounce cans of METEOR MUD compound. Retail Value $17.99.
Thank you Hasbro for your generous donation of these toys to our Under the Tree Program.

And for our readers, we will select one winner to receive all three toys.
Here's how to enter:
See our Christmas Giveaway 2008 post to read more about
participating in our Christmas Giveaway

Either link back to this post and include a Christmas Giveaway 2008 button in that post or on your sidebar, or link to the individual giveaways you choose to enter. We have a ton of different buttons and styles for you to choose from. Click here to get the button codes. (If you post and include the button, either in your post or on your sidebar, and link back here, you are good for all the giveaways. No more linking required.)
Please leave one comment below to enter this giveaway. You may earn additional entries for the following:
1. Subscribe to our Feed
2. Sign up for our Newsletter
If you are already subscribed and are on our newsletter list, you qualify for these two additional entries. Go ahead and leave your additional comments below.
As always, non bloggers are welcome to participate! We understand you can't link – but please spread the word to your friends via facebook, twitter, etc.
Entries are open from Sunday, November 23rd through Friday, November 28th at 12pm EST.
Our winner will be drawn randomly and we will announce the winner Monday, December 1st. Please make sure to check our site and your email address to see if you have won a prize. We must receive your reply within 5 business days. (If you want your prize to arrive in time — the sooner we hear from you, the better!)
This contest is open to US shipping addresses. Due to legal restrictions, this promotion is not available in Arizona.

Please see our site's Terms and Conditions of Use for a complete list of our Contest and Giveaway Rules.