This post may contain affiliate links. Read my disclosure policy here.

I am so excited to share all these little goodies from Playskool with you. Whether you have a child who just "needs" one of these items or not, I have no doubt that everyone could think of a niece or nephew or a classmate celebrating an upcoming birthday to make sure that these toys all find the right home! Check out the very interactive Hasbro Toy Shop website for more ideas, where you can search by price, age, sex or brand.
One First Prize winner will receive each of the following toys from Playskool/Hasbro: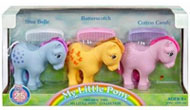 Did you know that My Little Pony is celebrating its twenty-fifth anniversary? I can't believe that toys that were around when we were little girls are still just as popular — or more so– with our little girls. It's easy to see why the cute ponies whose tails and manes can be brushed and come in a virtual rainbow of color combinations appeal to young girls from age three on up (I'll bet there are even some Pony-loving Mommies who are playing right along as they relieve their childhood). We are giving away a set of three vintage ponies (retail value $14.99).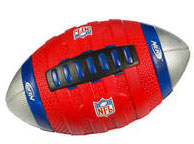 You can't go wrong with a Nerf ball. The NFL Pro-Grip Nerf Football ($9.99) is no exception. I know that these products are strong enough to hold up to the antics of a high-energy boy, but lightweight enough not to do any permanent damage to siblings and cousins, if you know what I mean!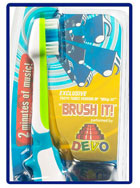 Jackson was excited to try out the Turbo Tooth Tunes Battery Powered Toothbrush, which retails for $9.99. When he got it, he showed it to Olivia, and she liked it so much that she hasn't stopped carrying it around. It's probably fitting that Olivia has it — with 12 teeth, even though she's just one, she has the mouth of a preschooler already! He's such a nice big brother, that he let her keep it!
The Tooth Tunes Junior ($9.99) is perfect for the slightly smaller mouth.
With these two sized of tooth tunes, both your preschoolers and your big kids can have fun brushing and listening to the music — which will encourage them to brush longer.


I think this is a brilliant way to get kids excited about taking care of their teeth.
The I-Dog Clip ($14.99) is like the iDog (see below), but even smaller! It's designed to clip right on to your clothes or your backpack so you can listen in a fun way while you're on the go.
One Grand Prize winner will receive all of the prizes listed above as well as the following two additional items from Playskool/Hasbro: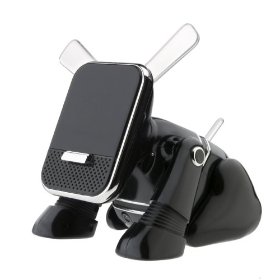 Do you remember when I tried to be a good mother by indulging Jackson's desire for the Burger King iDog toy? So you won't be surprised to find out that Jackson was super-excited to check out the iDog Dance (retail price $39.99). I'll bet that he'll have Olivia loving this one as well, although he might not give this one to her even if she expresses an interest in it.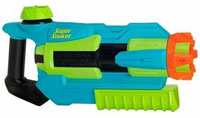 The Super Soaker Sneak Attack ($9.99) is another toy that any boy would squeal like a girl over! This thing has power. Just make sure you stay out of the way while he's testing it out. It holds 47 ounces of water, and shoots 20 feet!

So — if you'd like to win a Grand Prize set or First Prize set, let us know which one of these products your children would be thrilled to unwrap on Christmas morning. Be sure to let us know the sex/age of your kids so that we can match them up with the right products, if possible.
Thank you Playskool/Hasbro for your generous donation of each item to our Under the Tree Program.
Here's how to win:
See our Christmas Giveaway 2008 post to read more about
participating in our Christmas Giveaway

Either link back to this post and include a Christmas Giveaway 2008 button in that post or on your sidebar, or link to the individual giveaways you choose to enter. We have a ton of different buttons and styles for you to choose from. Click here to get the button codes. (If you post and include the button, either in your post or on your sidebar, and link back here, you are good for all the giveaways. No more linking required.)
Please leave one comment below to enter this giveaway. You may earn additional entries for the following:
1. Subscribe to our Feed
2. Sign up for our Newsletter
If you are already subscribed and are on our newsletter list, you qualify for these two additional entries. Go ahead and leave your additional comments below.
As always, non bloggers are welcome to participate! We understand you can't link – but please spread the word to your friends via facebook, twitter, etc.
Entries are open from Saturday, November 22nd through Friday, November 28th at 12pm EST.
Our winner will be drawn randomly and we will announce the winner Monday, December 1st. Please make sure to check our site and your email address to see if you have won a prize. We must receive your reply within 5 business days. (If you want your prize to arrive in time — the sooner we hear from you, the better!)
This contest is open to US and Canadian shipping addresses. Due to legal restrictions, this promotion is not available in Arizona or Quebec.

Please see our site's Terms and Conditions of Use for a complete list of our Contest and Giveaway Rules.